February 9, 2019
March 30, 2019
to
Artists:
Monica Rudquist, Judy Onofrio
Reception:
Saturday, February 9, 6-8 p.m.
Gallery Talk: Tuesday, March 5, 10:30 a.m.
NCECA Reception: Friday, March 29, 5-9 p.m.
Rudquist and Onofrio delve into new bodies of work addressing their shared interest in the assemblage of forms, material and space.
Accumulation is part of NCECA @ St. Kate's, special exhibitions and events presented by The Catherine G. Murphy Gallery in honor of Claytopia, the 53rd annual conference for the National Council on Education for the Ceramic Arts, March 27-30, 2019.
Conference participants are encouraged to visit during the NCECA shuttle bus tour: Wednesday, March 27 (St. Paul Wednesday Daytime Shuttle. click here for more information and shuttle bus tickets)
All exhibitions and events are free and open to the public.
For more information, call The Catherine G. Murphy Gallery: 651-690-6644
---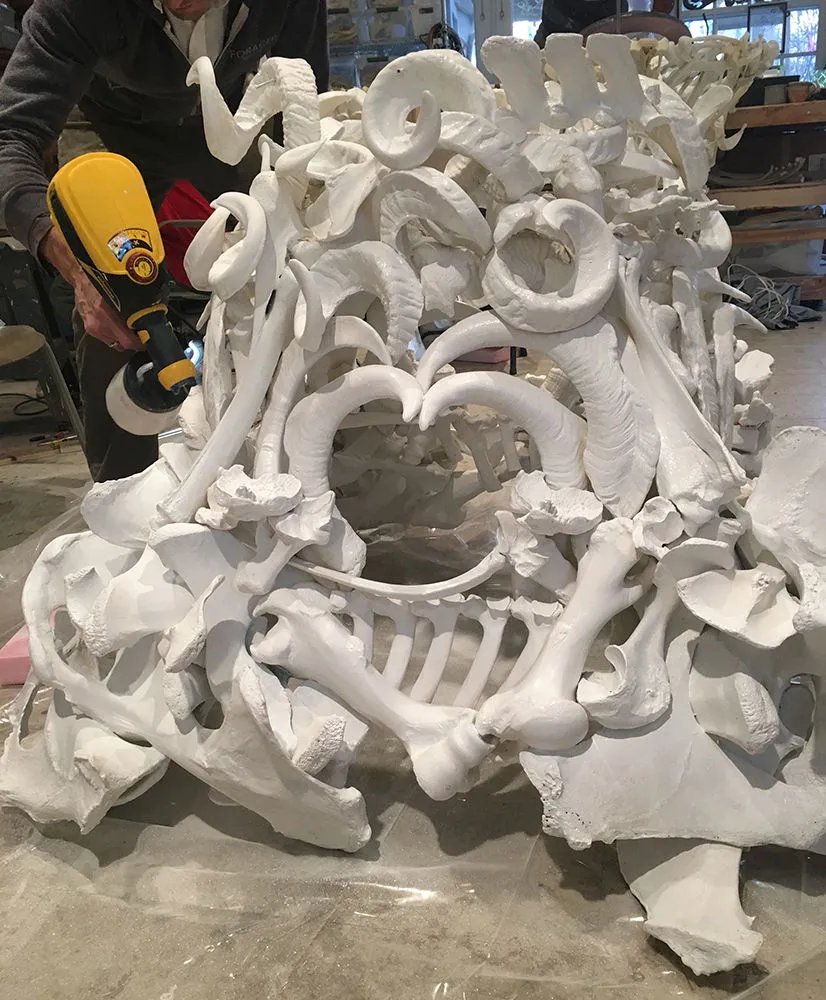 JUDY ONOFRIO: BIOGRAPHY
A multi-media sculptor, Judy Onofrio has been creating art for over five decades. Over the course of her career, she has worked in various mediums. She focused the first 15 years of her career working in ceramic sculpture. Her passion for material and a love for change drove her to work in jewelry, mosaic, large-scale installations, fire performances, and currently bone sculpture. The current bone work emphasizes Onofrio's lifelong interest in form and materiality.
Onofrio has work in numerous public and private collections and has exhibited extensively both nationally and internationally. Selected awards and achievements include the Rochester Art Center Lifetime Achievement Award; the 2018 A.P. Anderson Award; the Minnesota Crafts Council Lifetime Achievement Award; a grant from the Minnesota State Arts Board; fellowships and grants from Arts Midwest/NEA, the Bush Foundation, and the McKnight Foundation. In 2005, she was honored to receive the McKnight Foundation Distinguished Minnesota Artist award for her ongoing contributions as an artist and educator in the state of Minnesota.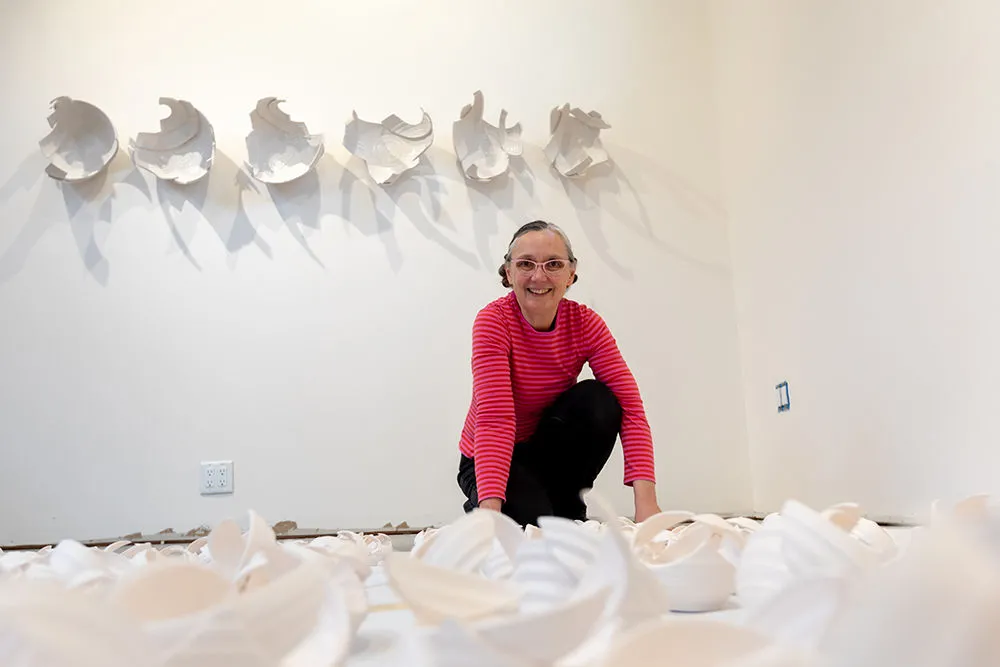 MONICA RUDQUIST: BIOGRAPHY
Monica is a clay artist who works primarily with porcelain. She is well-known for her playful, wheel-thrown functional wares as well as her large-scale, abstract wall installations. She started working with clay as a young child, and she is the daughter of artists: her mother was an architect and her father a painter. Rudquist attended Macalester College in St. Paul where she worked with notable ceramicists Gail Kristensen and Ron Gallas. It was at this time that she first met Judy Onofrio, with whom she is currently exhibiting. She continued her studies at Cranbrook Academy of Art where she earned her MFA while working with Jun Kaneko.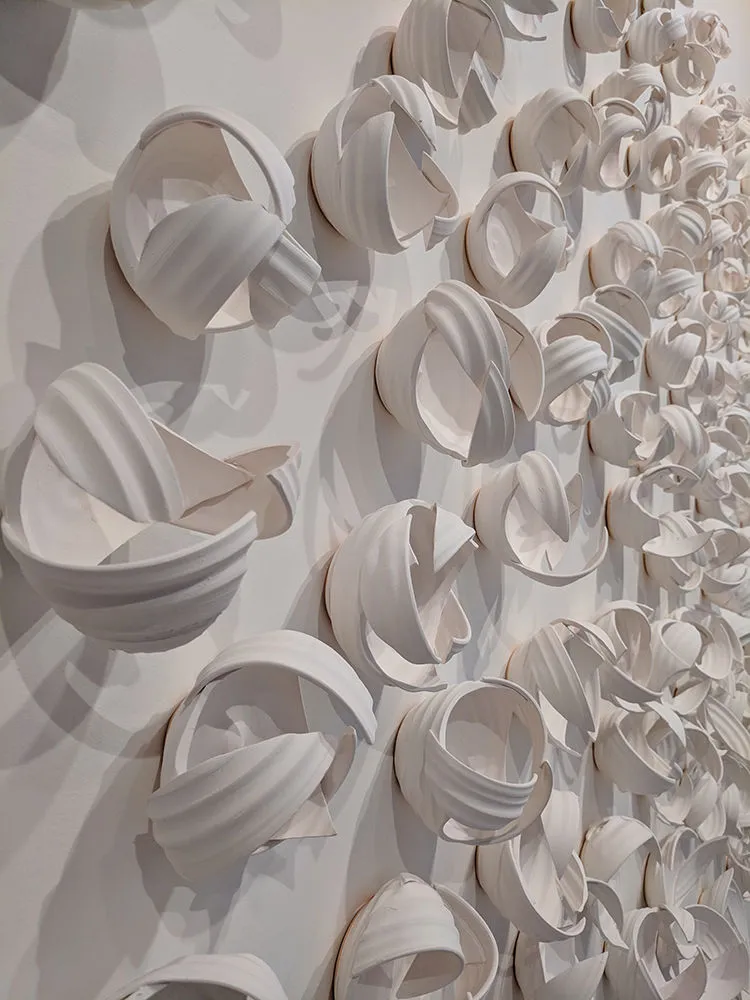 After her graduate studies and upon her return to the Twin Cities, Monica joined The Women's Artist Registry of Minnesota (W.A.R.M.) where she exhibited her first large-scale wall installation. Since then, she has exhibited widely across the country in group and solo exhibitions as well as at regional art fairs. Her work has been featured in several publications including Ceramics Monthly, Ceramics Art and Perception and the Room and Board catalog. Her work is included in numerous private and public collections, including the McKnight Foundation, the Minnesota History Center and Life Source of Minnesota, which has the largest permanent installation of Rudquist's work on display at their headquarters in Minneapolis.
Rudquist is active in the local art scene as co-president of Minnesota Women Ceramic Artists (MNWCA), and a founding member of Northern Clay Center. Monica is currently Assistant Professor of Ceramics and Sculpture at St. Catherine University and the 2018 recipient of the University's Carol Easley Denny Award, which has helped fund this exhibition. This prestigious annual faculty award recognizes excellence in teaching, research and community service. The Denny Award is named for Carol Easley Denny, the late wife of Charles M. Denny, Jr., trustee emeritus and former chair of St. Catherine University's Board of Trustees. Rudquist is the first art professor to win the award.
ARTIST TALK
Monica Rudquist and Judy Onofrio discuss their artistic careers, practices and the work in their exhibition, "Accumulation."
JUDY ONOFRIO: ARTIST'S STATEMENT
This work is celebrating the ongoing cycle of ever-changing life filled with expectation, anticipation, and the unknown. Through my intuitive studio practice I seek to move beyond a specific narrative, and reach toward a universal experience of beauty that speaks to the transitory nature of life.
---
MONICA RUDQUIST: ARTIST STATEMENT
I am an accumulation. I am an artist and maker, teacher and collaborator. I have worked with clay for most of my life, and it is through clay that I navigate the world. In my work I want to create opportunities to look closely, reflect, and discover connections and new perspectives.
As an artist and maker, thrown objects (such as bowls and cylinders) are my starting point—They ground me in the tradition of functional wheel work. Through the process of throwing, altering and abstracting these familiar forms, I reimagine and reinvent the shapes and the spaces they inhabit. By arranging the forms on a vertical surface, I can change the way they are interpreted. These compositions grow organically: when I begin, I look for ways in which the individual forms relate to one another, slowly patterns emerge, and shadows take on new importance. I engage in a dialogue with the developing piece as the composition emerges.
As a teacher, I instruct my students about the inherent power of clay. It gives us a voice, and it becomes an intimate record of our physical gestures and conceptual intentions. Clay can become almost anything one wants it to become, and it is a medium that keeps an artist humble. Many things can go wrong in the process of working with clay, yet it gives us the opportunity to push our limits, to fail and recover in a world that expects so much perfection. It encourages the artist and viewer to slow down, pay attention to the details and discover something new.
As a collaborator, I use clay to bring people together, to build community and expand perspectives through shared experiences. The St. Kate's Empty Bowls Project epitomizes my desire for clay collaborations grounded in community and social justice. Other collaborations, such as my current exhibition with Judy Onofrio, represent another type of shared experience, one that expands and enriches both of our practices by giving us access to the thought processes and creative practice of another artist.
I have always thought of Judy as a mentor and I am thrilled to have worked with her over the last year. We share a belief in the power of objects, the love of form and material, and a practice based on intuition and curiosity. I knew working with Judy would challenge me to take risks in my work, and push my clay making in new directions.
When Judy proposed we call our show Accumulation, it felt like the perfect title for these times. We are all an accumulation of our unique experiences that frame how we view and respond to the world. The process of working with Judy towards Accumulation has given me the opportunity to reflect and discover new things about myself: I am drawn to creating patterns but not necessarily controlling them. I need to trust my instincts. I need to slow my practice, make time for experimentation and observation. Because of these challenges, I'm more energized than ever before—there's still so much to learn.
Image Gallery
Click an image to view in larger size