East & West Gallery
November 5, 2022
December 11, 2022
to
Artists:
Hend Al-Mansour, Susan Armington, Nida Bangash, Roya Farassat, Nina Ghanbarzadeh, Farida Hughes, Fawzia Khan, Ifrah Mansour, Kimberlee Joy Roth, Helen Zughaib
Between the Stripes, Under the Stars is an exhibition by ten women artists—the majority of whom are immigrants from Asia, the Middle East, and Africa—attempting to answer the question, "who is an American?" This is the second exhibition by these artists, who explore identity within the context of multiculturalism, language, upbringing, gender, and the legacy of colonialism. Using a variety of media and methods, these artists present a range of viewpoints and experiences contained in contemporary American identity.
Virtual Artist Discussion: Wednesday, December 7, 6:30pm CST. Please RSVP here by Sunday, December 4. A Zoom link will be emailed to participants in advance of the event.
This project was funded by a GHR General Grant as part of the GHR Foundation's Academic Excellence Grant to St. Catherine University.
Press: MPR, Art Hounds: Minnesota multimedia shows challenge viewers, November 17, 2022.
Eva Ngono '25, "Between the Stripes, Under the Stars: New Exhibit at the Gallery," The Wheel, November 20, 2022.
---
Discussion by the artists in Between the Stripes, Under the Stars, moderated by gallery director Nicole Watson, December 7, 2022.
Curator's Statement
Between the Stripes, Under the Stars is the second exhibition by ten multicultural American artists. Their first exhibition, titled I Contain Multitudes, took place at the Milwaukee College of Art and Design in 2019. Meeting each other (some for the first time) and exhibiting together made for a profound and validating experience. There was an instant recognition of community. While many of the artists are immigrants from Asia, the Middle East or Africa, and have lived in many places before transplanting to the US, others were raised and/or live in multicultural families. Living between cultures is routine for them.
The title Between the Stripes, Under the Stars suggests the flag of the United States and its premise to claim space for all people under the stars of that flag. As many of the artists are immigrants, they often feel like outsiders due to differences in language, culture, religion, etc. They routinely adapt to fit into American society as needed. Some of the artists came here because they could not live authentic lives in their countries of origin, while others were driven out by war. With the highly charged political rhetoric around immigration and "certain" countries that surfaced during the last presidential administration, the artists felt compelled to ask the question: Who is an American? They explore identity within the context of multiculturalism, language, upbringing, gender, and the legacy of colonialism.
Many of the artists in this exhibition examine the effects of political situations both here and abroad on people, whether they are subjected to violence, forced displacement, or gender or racial inequities. Others celebrate human diversity or use language to navigate across differences and relate. Having a dual identity often means seeing both sides of a geopolitical conflict. There may be family or friends in another country who are directly impacted. Sometimes it means seeing a geopolitical conflict where most are oblivious. The artworks in this show, while diverse in media and subject matter, are connected by a desire to highlight our common humanity and an eagerness to use art to tell the stories of contemporary American identity, in all of its complexities. In doing so, the artists reveal both the limitations and aspirations of humanity and claim their space as Americans.
– Fawzia Khan
---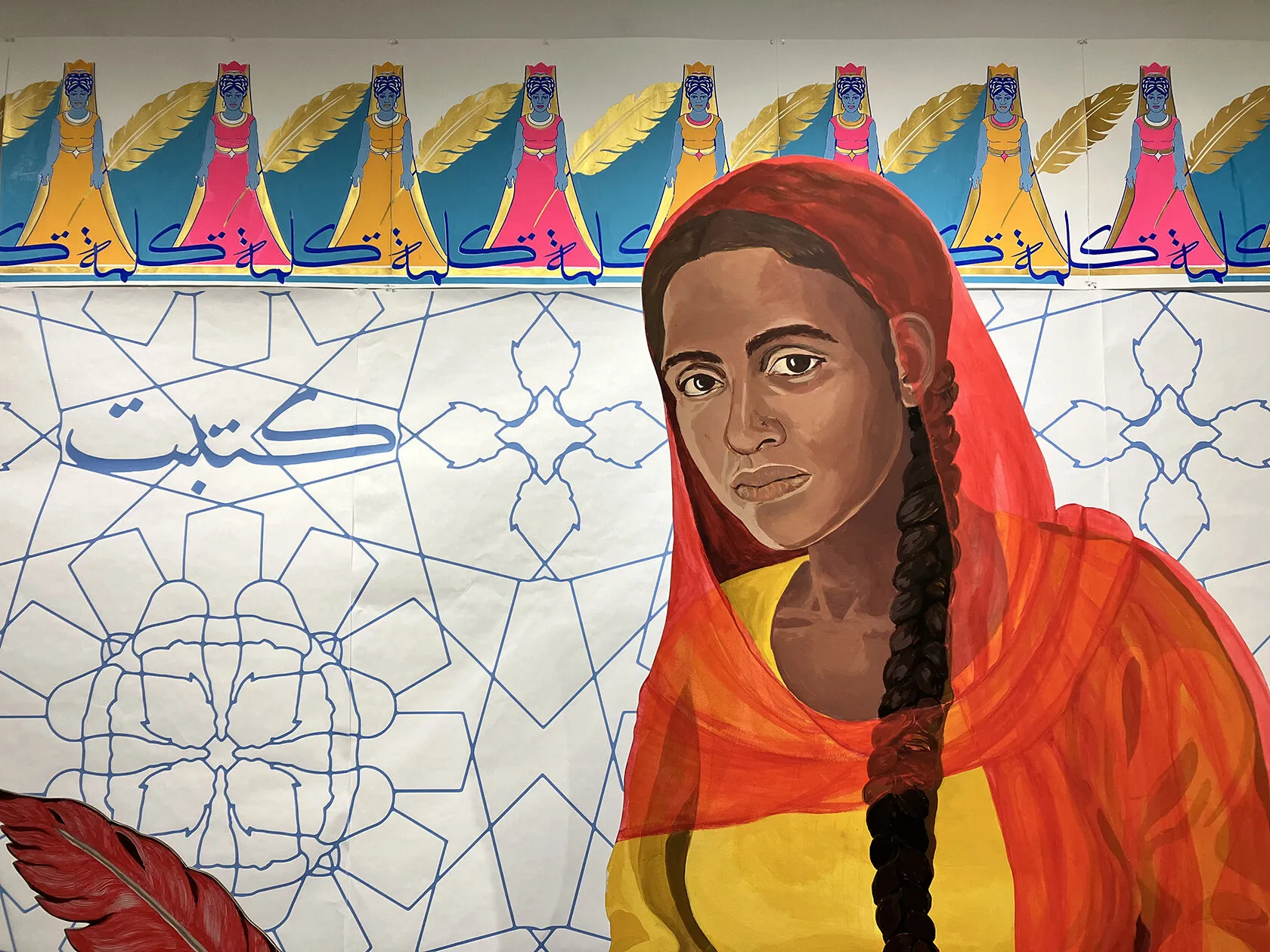 Hend Al-Mansour
ARTIST STATEMENT
Islamic aesthetics and gender politics influence my art. My work unfolds across painting, screen-printing, drawing, and installation. My palette plays with reds, yellows, and hot pinks that alternate with majestic gold, purple, and blue. Sometimes, I go monochrome. My images have stylized figures within the context of calligraphy, and geometric design, usually telling stories of powerful women. Using rolls of screen-printed fabric or paper, I built spaces that featured murals and small sculptures based on interviews with Arab-American women using rolls of screen-printed fabric or paper. These installations are secluded by columns and domes and nuanced by sound and light; these installations recall Bedouin tents and Islamic architecture. As Feminism waves swept the globe, women in Saudi Arabia, the birthplace of Islam, are marginalized in the name of the religion. And although I am not adherent to Islamic rules and beliefs, Islam is the milieu and the substrate that made me. Islamic sensibilities and languages have shaped me. So, I examine Islamic mythology and bring back stories that empower and celebrate women. I want to shed light on women's heroism in Islamic past and present. I want to reclaim my rights within Islam itself and not outside of it.
ARTIST BIO
Hend Al-Mansour is an award-winning, Saudi-American visual artist and a retired physician. She immigrated to the United States in 1997 and began pursuing her art career around 2000, earning an MFA from the Minneapolis College of Art and Design and an MA in Art History at the University of St. Thomas. She has received a McKnight Fellowship, a Jerome Fellowship, two Minnesota State Art Board Artist Initiative Grants and the Juror's Award of the Contemporary Islamic Art exhibition in Riyadh Saudi Arabia. Her art explores religious and social belief systems of the Arab communities, especially those dealing with women.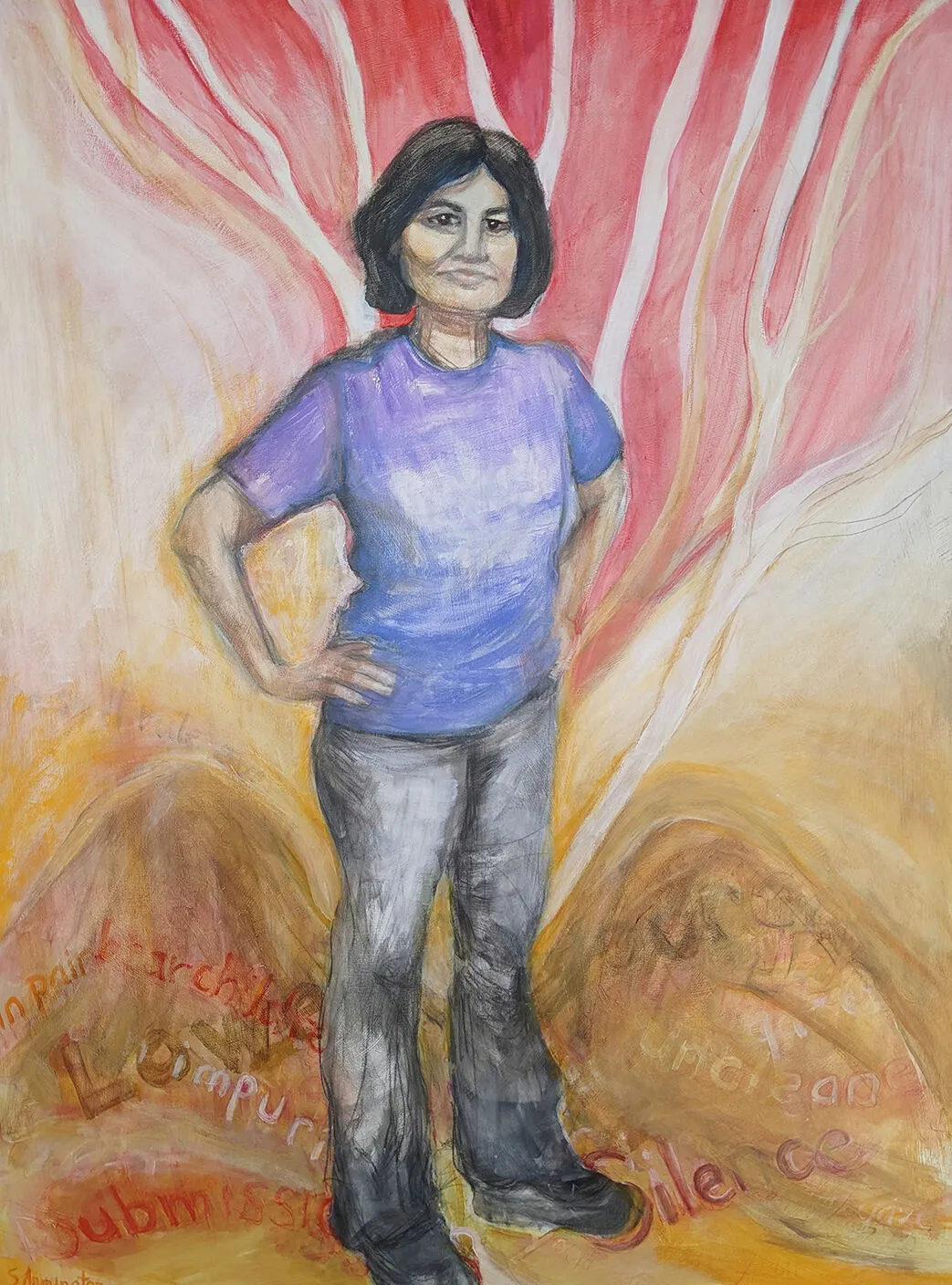 Susan Armington
ARTIST STATEMENT
I am a Minneapolis-based artist who works in painting, mixed media, and imaginative map-making. My work evokes drama and story, mixing imagery with text, and often including the voices of others in their own words and writings. I create layered images with acrylics, papers, graphite, and metallic leaf, where words cross into image, and images into words. My art and community work deal with connecting across difference, and the role of words in bringing us together as well as maintaining our differences.
ARTIST BIO
Susan Armington works in painting, mixed media and imaginative map-making. She grew up on the East Coast where she studied foreign languages and literatures, and married a Japanese physicist. She spent two years with their young sons in Japan, living at first, in Tokyo with her Japanese family, then at the National University of Tsukuba two hours away, where she taught as a foreign professor for two years. She returned to Minnesota in 1997 to focus on art.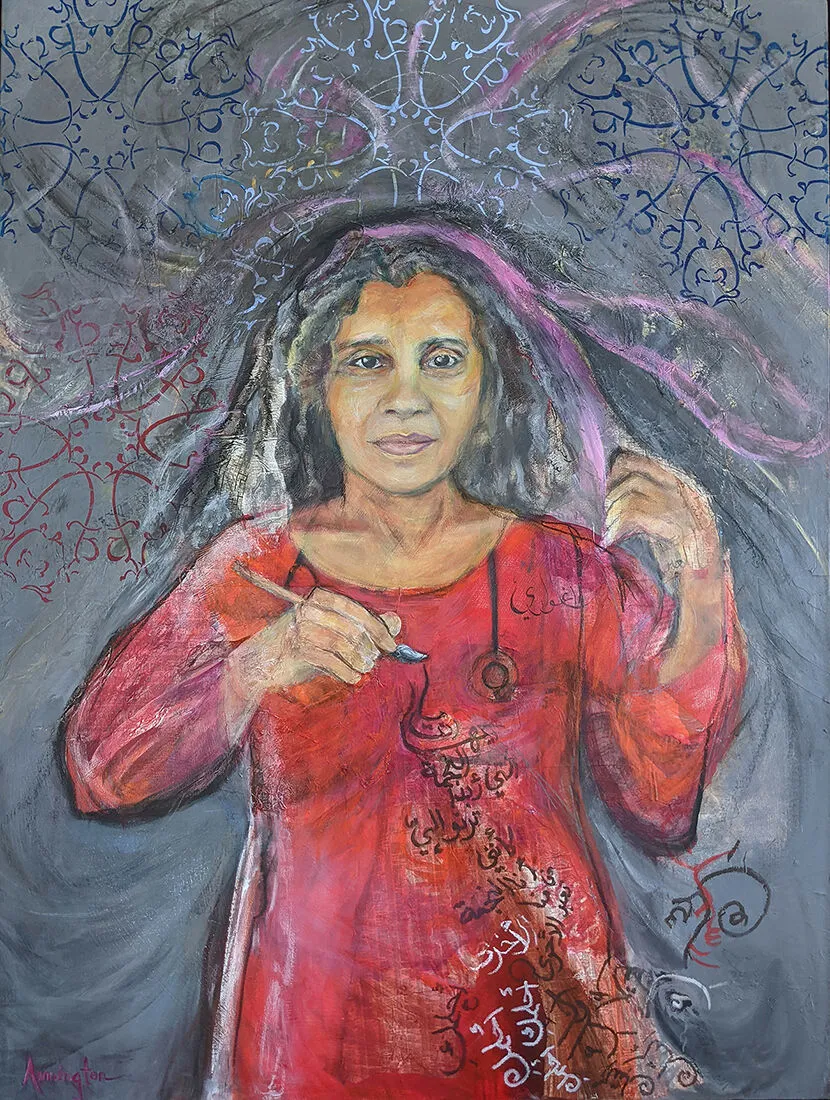 In her art, she seeks to bring people and places alive through a mix of imagery and people's own words and voices. Her art has been exhibited regionally, nationally, and internationally, and she's received grants from the Minnesota State Arts Board in 2004, 2009, and 2013, and a Southwest Minnesota Community Art Legacy grant in 2016. In 2012, she created life-size painted wood figures of young people from around the world and their dreams for the United Nations and National Labour Organisation in Geneva. She's been a teaching artist on the COMPAS and Minnesota State Arts Board art rosters for more than 15 years. She originated and leads "Talking Suitcases"—an art and story project for participants to create handmade objects and tell personal stories. Talking Suitcases is for communities of all ages and backgrounds to create art and discuss what matters to them most in their lives. She also writes nonfiction and memoir, and has published pieces in The Progressive, the Minnesota Women's Press, and the Star Tribune.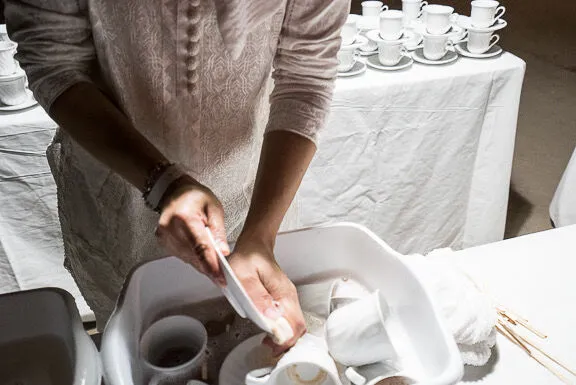 Nida Bangash
ARTIST STATEMENT
My mashq-based practice engages paradoxical issues of loss, dislocation, displacement and territoriality through examining the domestic as charged political space. Coming from a tradition of musawri [1]—miniature painting and carpet weaving, I am interested in the formal and conceptual underpinnings of the grid—a binary structure of power, which bears, gives form to, and disappears into the composition itself.
Through the process of Mashq—an interdisciplinary practice, loosely translated as exercise, repetition or circumambulation—I utilize both references from my immediate surroundings, as well as Indo-Persian history to investigate institutions as a continual colonial legacy. The complexities of my concerns are explored through a cross-disciplinary approach of painting, sculpting, performance and video installations. I explore the relation between contrasting mediums, aspiring to mediate static and moving images through an aesthetic that embodies the essence of miniature painting practice.
[1] The term miniature painting was changed from fanne-musawri during the British era and now we associate the whole genre with this term. The Arabic word fanne-musawri is one of the 99 names of God that is used self-reflexively in the Quran as the curator/artist. This word entered India through Persian language. The local term connects the painter to the Divine archetype of the creator whereas the reductive materialistic term, "miniature," merely describes the art from its physical attributes, whether it refers to its perceived smallness or the pigment miniatum.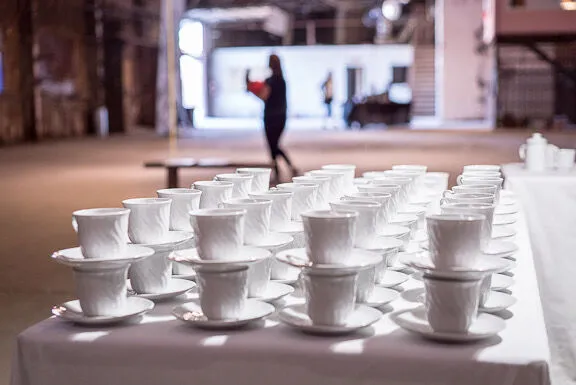 ARTIST BIO
Interdisciplinary artist Nida Bangash was born in Iran, raised in Pakistan, and currently lives in North Texas. While she works in a variety of media, Bangash was formally trained in Persian and South Asian miniature painting. Utilizing intricate patterns and precise details, Bangash's works weave in personal identity and experience to investigate the complexities of immigration, colonialism, culture, and race. Bangash earned an MA (Hons.) Visual Arts degree from the National College of Arts in Lahore and an MFA from Southern Methodist University. Additionally, Bangash received the Charles Wallace Arts Fellowship to study at the Princes School of Arts in London. She is represented by Talley Dunn Gallery, Dallas. Bangash's artwork has been shown in the Crow Collection of Asian Art Museum, Dallas; The Reading Room, Dallas; Kent Gallery, Florida State College Jacksonville; Milwaukee Institute of Art and Design; Idea Store, Whitechapel Gallery, London; Belconnen Arts Center, Canberra, Australia; thejamjar, Dubai; Saeed Akhtar Studio, Lahore; Zahoor-ul Alkhlaaq Gallery, National College of Arts, Lahore; Drawing Room Gallery, Lahore; and Canvas Gallery, Karachi.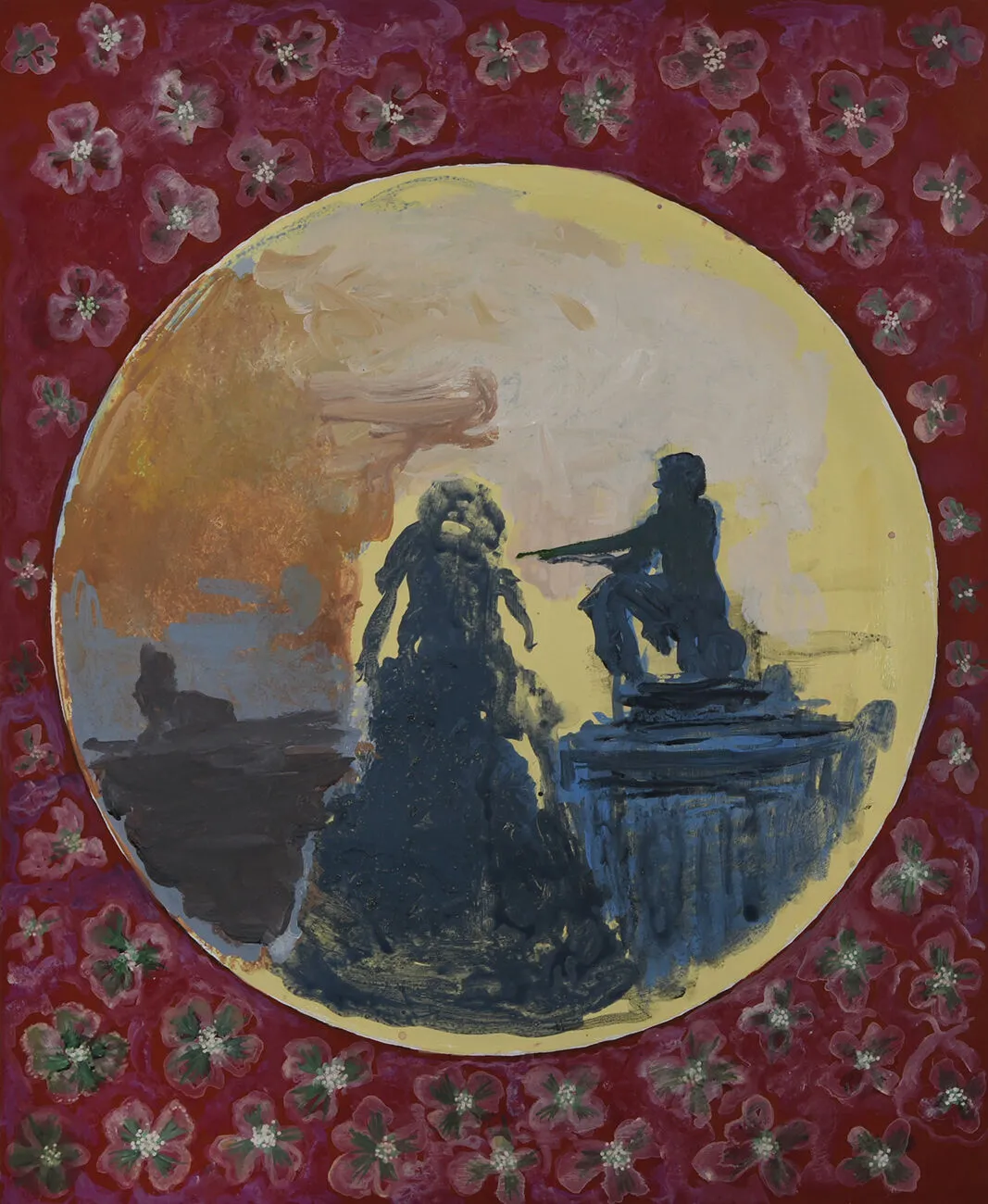 Roya Farassat
ARTIST STATEMENT
My paintings from the Tug of War series are in response to the complex, social and political events that are happening in the United States. Within these intimate works, loosely painted floral settings are accompanied by caricatures of abstracted figures partaking in violent acts. Fabricated from imagination, I retell stories of racial discrimination and gender inequality in the hopes to amplify the voice of those less fortunate.
ARTIST BIO
Roya Farassat is an Iranian-American visual artist in New York City, whose abstract and figurative work includes drawings, paintings, and sculptures. She received her BFA from Parsons School of Design and has been widely exhibited in galleries, universities and museums in United States and abroad. Farassat was nominated for The Victoria and Albert Jameel Prize and The MOP Foundation Contemporary Art Prize, London, and awarded residencies from Henry Street Settlement and The Makor/Steinhardt Center. Her works have been reviewed by The New York Times, The Financial Times, The Brooklyn Rail, The Boston Globe, Artcritical, Art Radar, Hyperallergic, W Magazine, and Flaunt Magazine.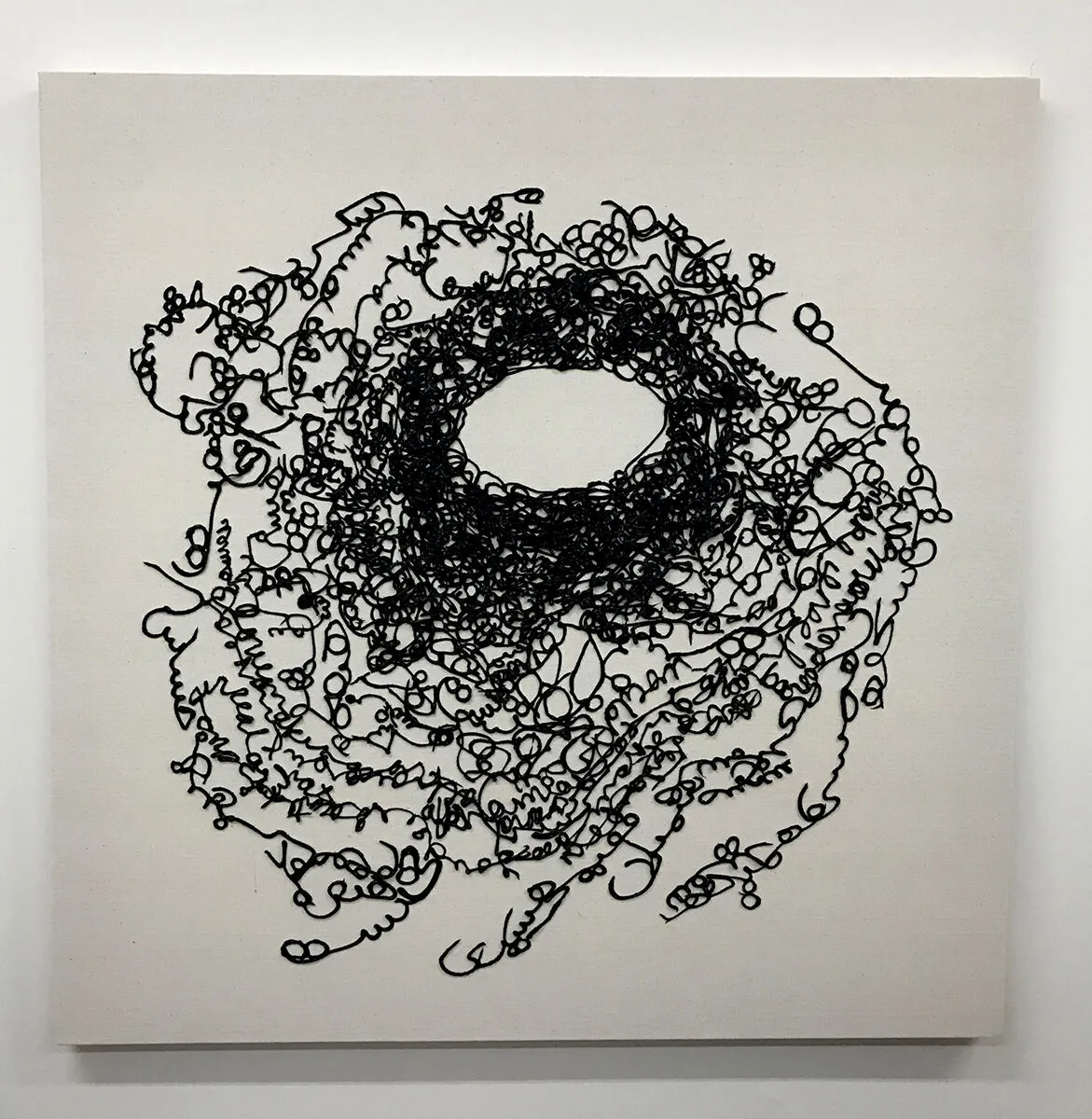 Nina Ghanbarzadeh
ARTIST STATEMENT
Living between two cultures (American/Persian), I find myself in constant translation not only in day-to-day communication with people around me, but also in the way I live and function. I draw inspiration from navigating between my two languages (Farsi and English) and from the limitations inherent in language. I write repetitive lines of words and phrases that evolve into organic, lively compositions containing greater space and depth. It is important that I hand-write every drawing. Each person's handwriting is an identifier. My works are not only stories and ideas I am sharing but also function as finger prints left behind in living my life here in the U.S. Words are heavily loaded, as hard as weapons or as soft as clouds. They function as carriers/vessels of meaning. Despite their weighty meanings, words are also a fragile and ephemeral concept. When our elders give advice, we often toss their precious words aside. Like porcelain, words are easily broken to pieces and put in the trash.
ARTIST BIO
Nina Ghanbarzadeh is a visual artist emigrated from Tehran, Iran in 2001. She earned her BFA in painting, drawing and graphic design from the University of Wisconsin, Milwaukee in 2013 and completed a two-year AIR Program with Redline Milwaukee in 2015. In addition to participating in number of group shows, Nina received the Student Silver ADDY, Fredric R. Layton Foundations Scholarship and the winner of best in show in Wisconsin Biennial 2020. Nina launched ARTkee Educational Toys in December 2019, which produces SOFT words, kits of basic shapes that allow children to explore the shapes as images as well as text. Nina draws inspiration for her educational toy business and her art from cultural differences and the limitations of language.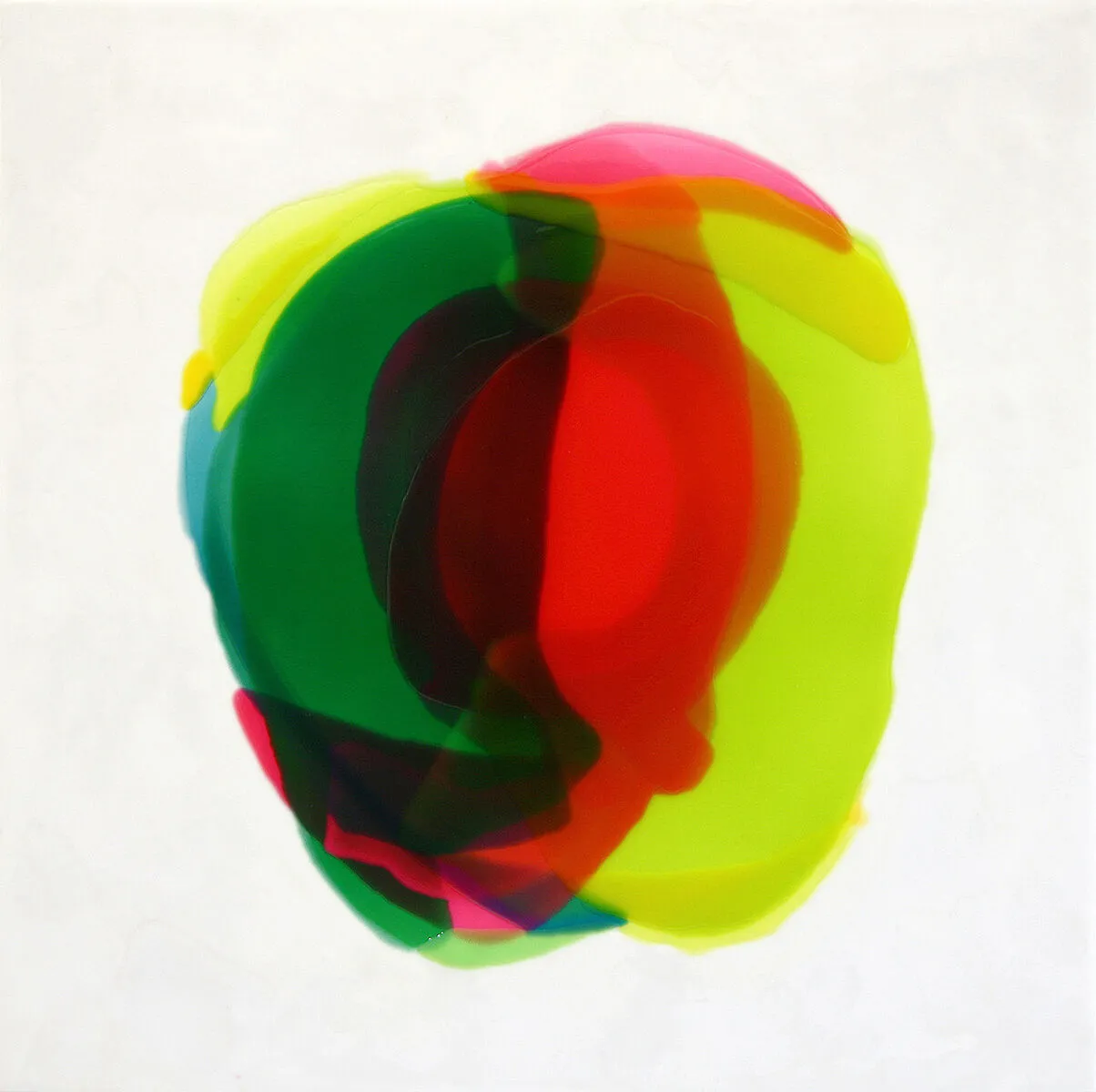 Farida Hughes
ARTIST STATEMENT
I tell human stories of identity and relationships through the fluidity and color harmonies of paint. My aesthetic is abstract and painterly, using oil paint and modern epoxy resin on wood or aluminum panel. Co-mingling translucent layers in abstraction is how I manifest the overlap and interconnectedness of our unique human understandings of one another, the histories that influence us, and our common movements within the spaces of the world. Using vibrant color, bold shapes and glass-like surface textures, I invite contemplation on the mixing of known and perceived realities. I create portraits without visages, translate human stories without using figural representation, and explore painting spaces as landscapes of communities with no horizon. With vivid color and abstract form, each of my Blends paintings display a composite portrait of the layers of an individual's cultural and ethnic background, based on stories that I solicit and collect. I respond to the anecdotes collected as I create each of the abstract paintings. This series began as a way to unwrap my own multi-cultural (South Asian Indian and German-American) background and subsequently grew to celebrate the unique blended-ness of each person contributing a story, and the effects of historical moments that the narratives inevitably present. Beginning the project in 2017, I continue to collect stories from friends and acquaintances and grow this community of Blends. Using my abstract visual language in this way I aim to celebrate and value human difference. My artwork involves ideas of crossing boundaries, blending experiences, and celebrating universal wholeness even through difference.
ARTIST BIO
Farida Hughes is an abstract painter/visual artist whose work is distinguished by vibrant color and translucent layering of shapes. Based in Baltimore, Maryland since 2018, her formal explorations and material investigations are first rooted in the experience, story-telling, and situational observation of the intersection of groups and communities, with empathy toward and interest in marginalized people. She strives for a message of community, optimism, and an embrace of human storytelling in her abstract paintings. Her work has been exhibited nationally in venues such as The Athenaeum Gallery, Alexandria, VA, Asian Arts & Culture Center, Towson, MD, Walker Fine Art, Denver, CO, Glave Kocen Gallery, Richmond, VA, and Milwaukee Institute of Art and Design, Milwaukee, WI. Her paintings are included in private and institutional collections and have been commissioned or placed for projects with Beatty Development Corp at Harbor East, Baltimore, MD, Target, Minneapolis, MN, UnitedHealth Group, Marriott Hotels, and more. She has received grants from the Maryland State Arts Council and the Minnesota State Arts Board. She and her art have been written about/ shown in publications including The Washington Post, Denver Post, Baltimore Magazine, BmoreArt, and Fordham University Alumni Magazine. Hughes received an MFA in Visual Art from The University of Chicago and a BA degree in Studio Art and English from Fordham University in New York.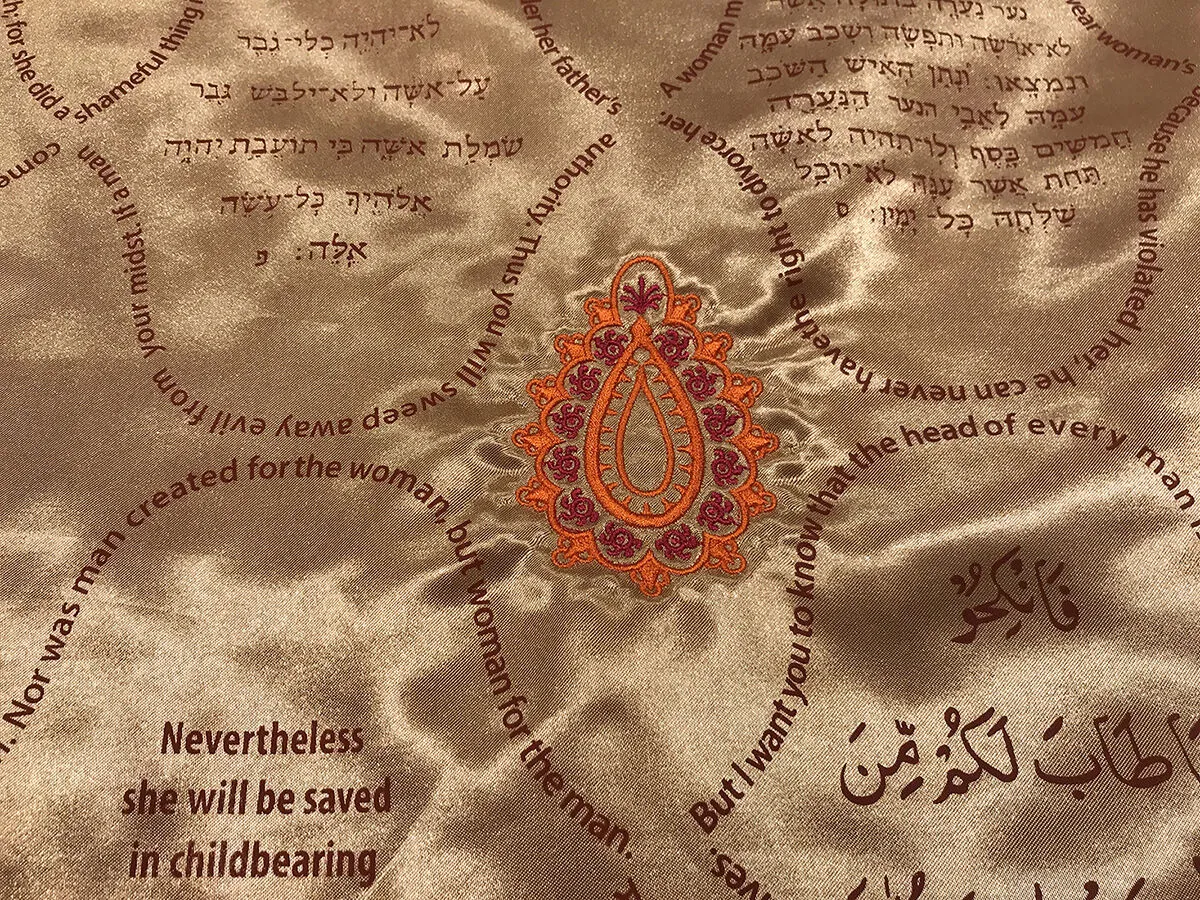 Fawzia Khan
ARTIST STATEMENT
Identity, gender roles, and marginalization are themes that run through my art. I seek to make socially conscious bodies of work that engage viewers, challenge stereotypes and open space for dialogue and reflection.
As an American, I enjoy freedom of religion and freedom from religion. My mother once said to me that in the United States, she could truly practice her religion, Islam, without repercussions or societal judgments. Veil, representing a bridal bedspread, is printed with words from the Torah, Bible and Quran about the role of women. It reveals the deep roots of patriarchy inherent in the three Abrahamic faiths reducing women to vessels for male pleasure and reproduction.

We Americans also live in a society with increasing levels of gun violence. Mass shootings, once a rare event, are now commonplace. Land of the Free, Home of the Brave is a memorial to the 128 victims of school mass shootings, defined as four or more victims.

My hope is that these works spark a deep conversation amongst viewers, through which they see the "other's" point of view and in doing so, acknowledge our shared humanity. This creates an opportunity for understanding and resolution.
ARTIST BIO
Fawzia is a multidisciplinary artist from Hopkins, MN. Her most recent solo exhibition, Becoming Visible, was at the Hopkins Center for the Arts in May, 2021, and included work she made as a result of a 2020 Minnesota State Arts Board Artist Initiative Grant. She was also a 2022 McKnight Fiber Artist Fellowship finalist. Her work is included in many private and public collections. In addition, she is featured on the Twin Cities Public Television program MNOriginal.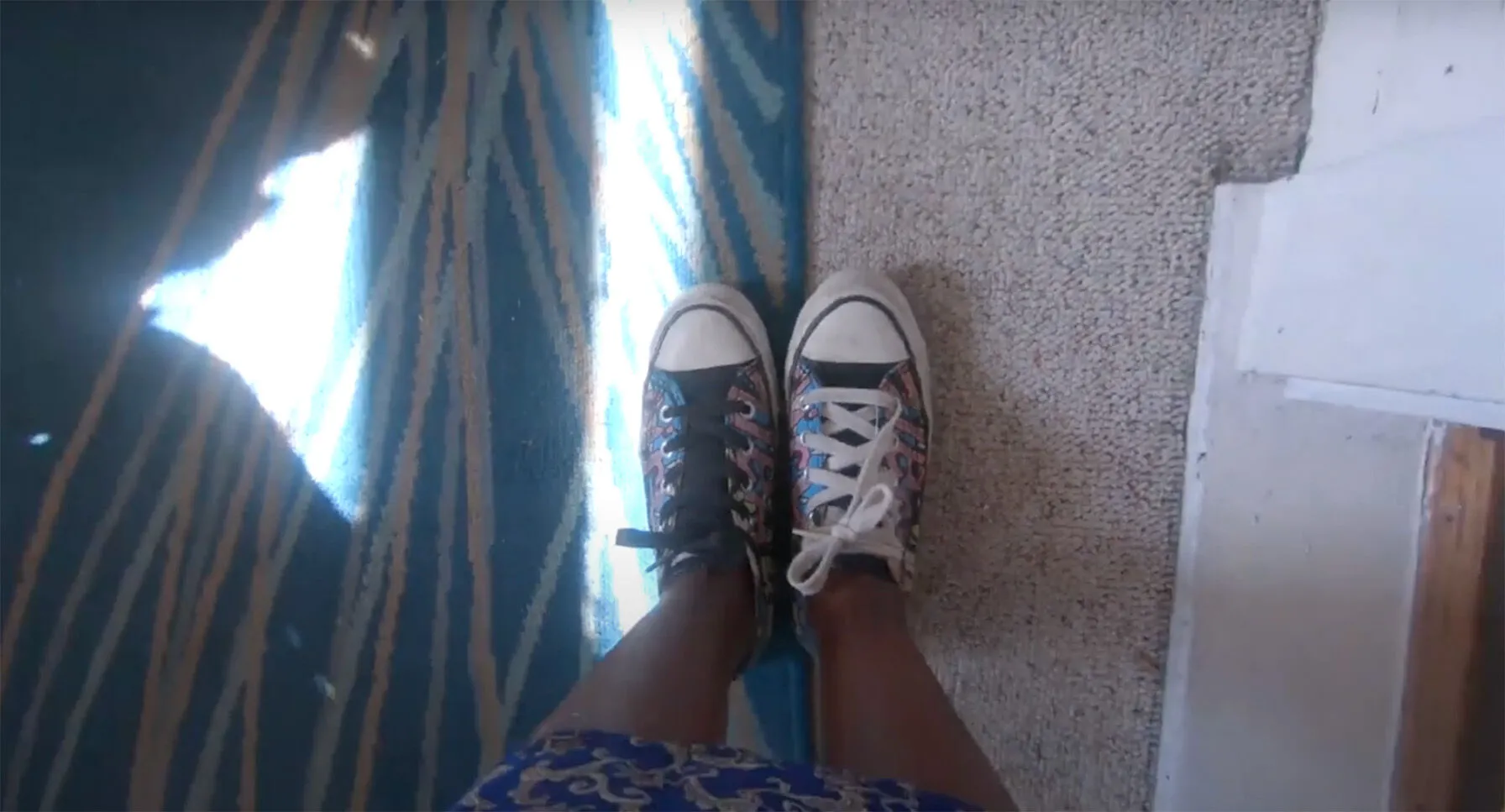 Ifrah Mansour
ARTIST STATEMENT
As people of color, our stories are often stripped of their strength and complexities. My artwork intimately explores trauma through the eyes of children to uncover the resiliencies of blacks, Muslims, and refugees. I interweave poetry, puppetry, films, and installations, using my lived experiences to create artworks to reimagine people's connections to one another beyond borders, faith, race, class, and sexual orientation. My artwork aspires to connect traditional and modern life, often comparing history and current events with honesty, respect, and humor.
ARTIST BIO
Ifrah Mansour is a Muslim Somali refugee who was born in Saudi Arabia, raised in Somalia, Kenya and the United States. She has experienced civil wars, famine, displacement, droughts and refugee camps before coming to America. Now, Ifrah is playwright, performer, poet, puppet builder, nomadic hut builder, experimental filmmaker and bilingual educator. She's been featured in Middle East Eye, BBC, Vice, OkayAfrica, Star Tribune, and City Pages. Her critically-acclaimed "How to Have Fun in a Civil War" premiered at the Guthrie Theatre and toured to greater cities in Minnesota. Her first national museum exhibition, "Can I touch it?" premiered at the Minneapolis Institute of Arts. Her visual poem, "I am a Refugee," is part of PBS's short film festival. "My Aqal, Banned and Blessed" premiered at Queens Museum in New York.
Learn More: facebook.com/ifrahmansourart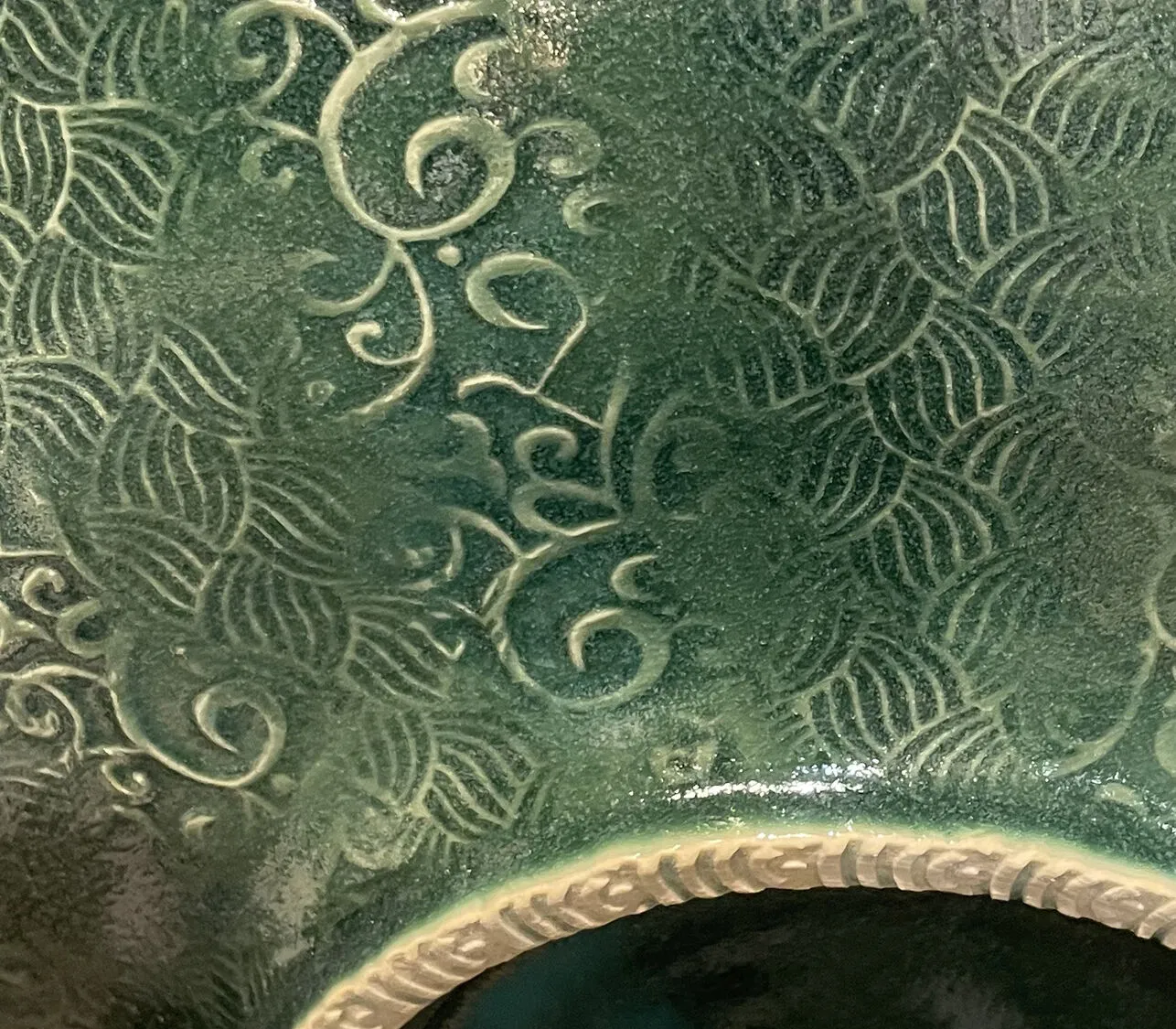 Kimberlee Joy Roth
ARTIST STATEMENT
For me, being born in the United States meant being raised in a Jewish household and learning Hebrew in grade school, but not really understanding the historical importance of the culture nor comprehending that Hebrew was a living language until I was older and in high school. This is partly due to the fact that no one in my family spoke anything but English, and partly because the culture was not forefront in my American experience, nor greatly represented in mainstream media. Also, I tried to assimilate and blend in so as to not be a victim of antisemitism while living in Chicago, a very racist area of the United States. When I was ten, the National Socialist Party of America (Nazis) wanted to hold a demonstration in Skokie, Il. and in downtown Chicago.
At the same time, I feel lucky being born in the U.S. It was the result of my Jewish grandparents leaving Austria, Czechoslovakia, Lithuania and Ukraine all before World War I.
And it meant that I did not have to get married at 16, or 18, or ever.
That I could finish high school. That I could go to college.
That I did not have to take an exam to qualify to study a particular field in undergrad.
That I did not have to be born into a family of artisans to study to become one.
That I had the freedom to choose what I did with my life, and that the status of my family did not dictate what I could become.
I am free to make and create anything that I want, I do not need to justify my work in order to create it, I do not need to fear government or religious authority, nor do I need approval from anyone, or any institution.
For this exhibition, Between the Stripes, Under the Stars, I created work that shows the similarities and diversity in motifs created by artists throughout the world. This body of work, which appropriates patterns from cultures other than my own, highlights both the similarities and the diversity in the designs created by craftspeople who leaned into their culture and society while also using their internal beauty of imagination. I find it fascinating to compare decorations, patterns and motifs created by disparate cultures and to see the common threads that link humanity.
Some motifs are recognizably Jewish, Islamic and Moorish, others are reminiscent of Middle Eastern, African, Pakistani and Indian traditional patterns seen on cloth, jewelry and body adornment. Other patterns are influenced by the Arts and Crafts and Art Nouveau movements from Europe.
In my view the beauty of humanity is expressed best when preparing and sharing food. The bowl is the form that most easily allows all types of food to be passed and shared. And it is on this form that I celebrate the diversity of human aesthetics and our proclivity to ornament.
ARTIST BIO
Kimberlee Joy Roth graduated from the University of Minnesota–Twin Cities with an MFA in Ceramics and an Art History minor in 2007. It's Plastic, her fall 2012 solo exhibition at The Catherine G. Murphy Gallery at St. Catherine University in St. Paul, Minnesota raised both awareness to plastic pollution in the world's oceans and $1,143 for The Algalita Marine Research Institute in Long Beach, California. She is a 2013 McKnight Artist Fellow in Ceramics and a Fiscal Year 2016 and 2011 recipient of an Artist Initiative Grant from the Minnesota State Arts Board. Her work is in the permanent collection of the Frederick R. Weisman Art Museum; Norman and Evangeline Hagfors Center for Science, Business, and Religion, Augsburg University; Mayo Clinic Rochester (Minnesota); 71 France Apartments, Edina, Minnesota; and the Lincoln Arts and Culture Foundation in Lincoln, California. She maintains a studio in the Northeast Arts District of Minneapolis; from 2007 to 2019 she was the Technician for the Art and Art History Department and The Catherine G. Murphy Gallery. She is currently the Ceramics Technician at the University of Minnesota–Twin Cities and is co-president of Minnesota Women Ceramic Artists.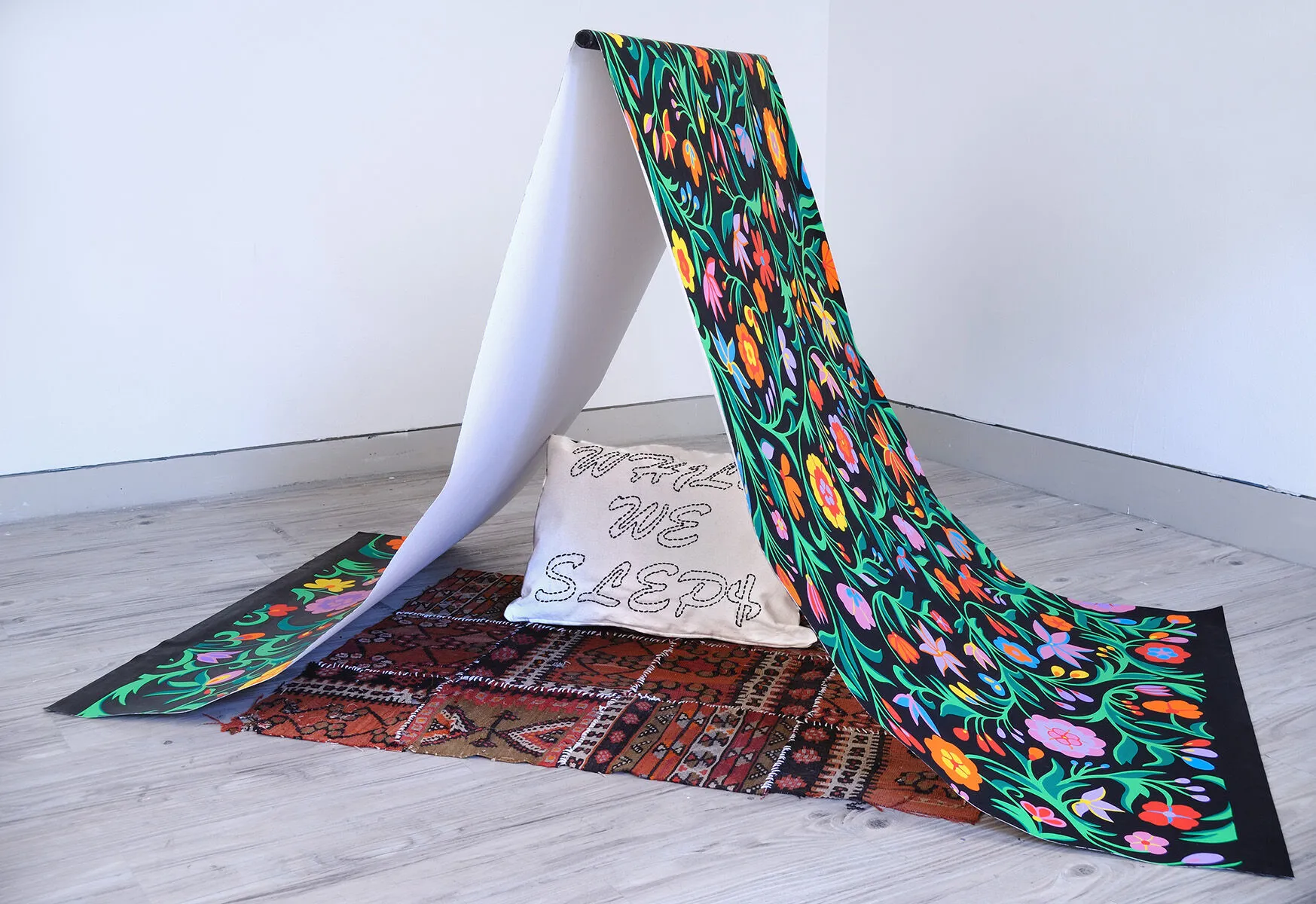 Helen Zughaib
ARTIST STATEMENT
As an Arab American, born in Lebanon, and forced by war, to flee my own country, I feel that my background in the Middle East allows me to approach the experiences I have in America, in a unique way, remaining an observer of both the Arab and American cultures. I believe that the arts are one of the most important tools we have to help shape and foster dialogue and positive ideas between the Middle East and the United States.
I hope through my work to encourage dialogue and bring understanding and acceptance between the people of the Arab world and the United States, especially since 9/11, our wars in Iraq, Afghanistan, and the more recent revolutions and crises across the Arab world resulting from the uprisings or "Arab Spring," that began in 2010, and more specifically the war in Syria that continues today, overall a decade later.The problems of displacement and war, as well as being unable to return to their country, continue to face millions of Syrians. With host countries unable or unwilling to fully support them with long-term solutions, many find themselves in untenable situations, facing violence, hunger and inadequate medical assistance, that often results in strong anti-immigrant, anti-other sentiment.
As an artist, I feel a continued responsibility to keep this work going and to keep the voices of the voiceless heard and seen. My hope is that my work will shine a light not only on this particular humanitarian crisis, but also shed light on the migrant crisis on our own Southern border, the recent war in Ukraine, and other countries where people are forced to flee in search of safety and a better life. My work is ultimately about creating empathy, to heal, and to reflect in our shared humanity.
ARTIST BIO
Helen Zughaib was born in Beirut, Lebanon, living mostly in the Middle East and Europe before coming to the United States to study art at Syracuse University, earning her BFA from the College of Visual and Performing Arts.
Helen currently lives and works as an artist in Washington, DC. She paints primarily in gouache and ink on board and canvas. More recently, she has worked with wood, shoes, and cloth in mixed media installations.
Her work has been widely exhibited in galleries and museums in the United States, Europe and Lebanon. Her paintings are included in many private and public collections, including the White House, World Bank, Library of Congress, US Consulate General, Vancouver, Canada, American Embassy in Baghdad, Iraq, the Arab American National Museum in Detroit, Michigan the Minneapolis Institute of Art, and the Barjeel Art Foundation Collection. Her paintings are also included in the DC Art Bank Collection and has received the DC Commission on the Arts and Humanities Fellowship award each year since 2015. Her work has been included in Art in Embassy State Department exhibitions abroad, including Brunei, Nicaragua, Mauritius, Iraq, Belgium, Lebanon, Saudi Arabia and Sweden. Helen has served as Cultural Envoy to Palestine, Switzerland and Saudi Arabia. The John F. Kennedy Center/REACH, in Washington, DC, has selected Helen for the 2021-2023 Inaugural Social Practice Residency. Her paintings have been gifted to heads of state by President Obama and former Secretary of State, Hillary Clinton.
"As an Arab American, I hope through my work, to encourage dialogue and bring understanding and acceptance between the people of the Arab world and the West, especially since 9/11, the wars in Iraq, Afghanistan, and the more recent revolutions and crises in the Arab world, resulting from the "Arab Spring" that began in late 2010, leading to the current war in Syria and the massive displacement of people seeking refuge in Europe, the Middle East and America."
"My work is ultimately about creating empathy. Creating a shared space for introspection and dialogue. I ask the viewer to see through someone else's eyes, to walk in another's shoes. To accept the "other." To reject divisiveness. To promote acceptance and understanding and to reject violence and subjugation of anyone anywhere. To give voice to the voiceless, to heal, and to reflect in our shared humanity."
Image Gallery
Click an image to view in larger size