East Gallery
April 14, 2018
May 20, 2018
to
Reception:
Saturday, April 21, 6 - 8 p.m.
All events are free and open to the public.
This annual spring event showcases the talent of graduating studio art and art education majors who display their talent and the skills they have developed in their programs. Ashley Tyler Alex, Sarah Borgen, Breanna D. Goudeau, Hannah Haughey and Teresa R. Widiger delve into subject matter that explores alternative perspectives and dismantles assumptions made by the viewers.
---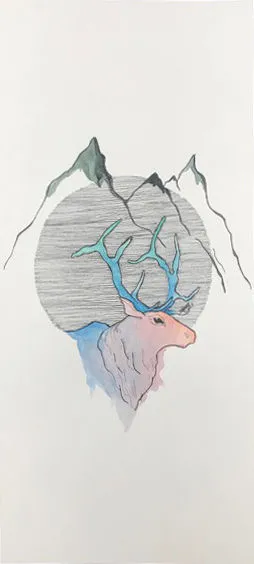 Ashley Tyler Alex
ARTIST STATEMENT
I am an intersectional feminist and member of the Northwestern Band of the Shoshone Nation. My work explores the evolution of identity and the process of living. Like most emerging artists, I'm drawing on my own experiences to explore these ideas. At the same time, I want to encourage my viewers to step beyond their comfort zones. Through my symbolic and seemingly obscure imagery, I challenge my viewers to confront those hidden or neglected parts of themselves they seek to understand. This experience creates a deeper dialogue between us, even if we never meet in person.
In my work as an artist, and in my experience as a woman of color, I witness the daily misrepresentation of culture, sexuality, gender and race. This misrepresentation conveys false truths and false narratives of Indigenous peoples and other people of color, and it is damaging to our social construct. I believe recording our stories through artwork is one way to correct our course and inspire a more truthful, honorable narrative for the future.
In my drawings and paintings, I explore this narrative by employing abstract and cryptic imagery in 2D form to investigate the process of life after loss and the sudden life-changes that distract us from the everyday. I have discovered that using subliminal messaging in artwork can captivate viewers from multiple walks of life. My imagery is inspired by symbols and traditions evident in my personal spiritual craft derived from tribal lore told by my father, and my own curiosity about the spirituality found in nature. I present my imagery in a series, hoping to create a visual dialog among my pieces while encouraging interaction with my viewers. Does my work speak to them? Does it reveal an overlap in our experiences? For me, this creative process is daunting, but necessary since I rely on my personal therapy sessions to dig into my own experiences of loss. My art challenges me to create a visual expression of this loss in a way that is both relatable to my audience while remaining truthful to my experiences.
BIOGRAPHY
Ashley Alex is a 2D illustrator located in St. Paul, Minnesota. She obtains her B.A. in studio art in December 2018 from St. Catherine University. During her undergraduate career, Ashley was the lead coordinator for the 112th Edition of Ariston, St. Catherine University's annual student art and literary publication. She was also a participant in the 2016 Women's Art Institute and the 2017 recipient of the Amy Sears Scholarship, an award for artistic and academic excellence offered by St. Catherine's art department. During the summer of 2017, Ashley participated in the St. Catherine University's Summer Scholars program for undergraduate research. She collaborated with faculty member Todd Deutsch and student peer Muna Scekomar in an animation project titled The Impact of the Liberal Arts: Multimedia Student Stories. This work was presented at the 2018 National Conferences on Undergraduate Research (NCUR) in Oklahoma and at the 2018 Posters on the Hill conference in Washington D.C. Ashley's current work explores themes of identity and grief through visual storytelling.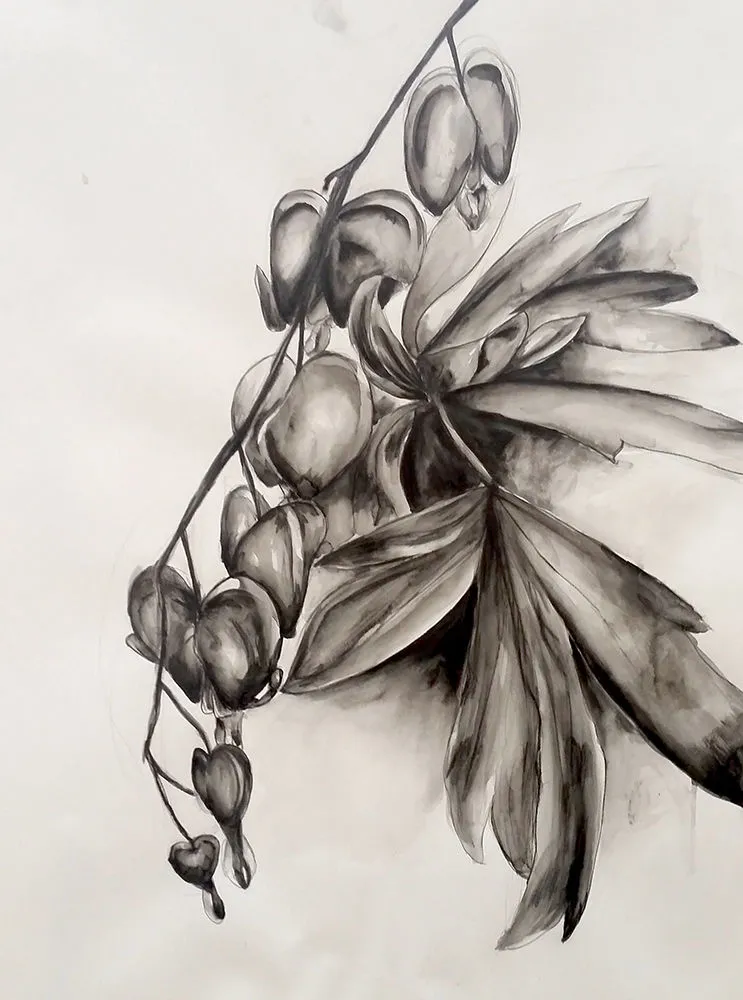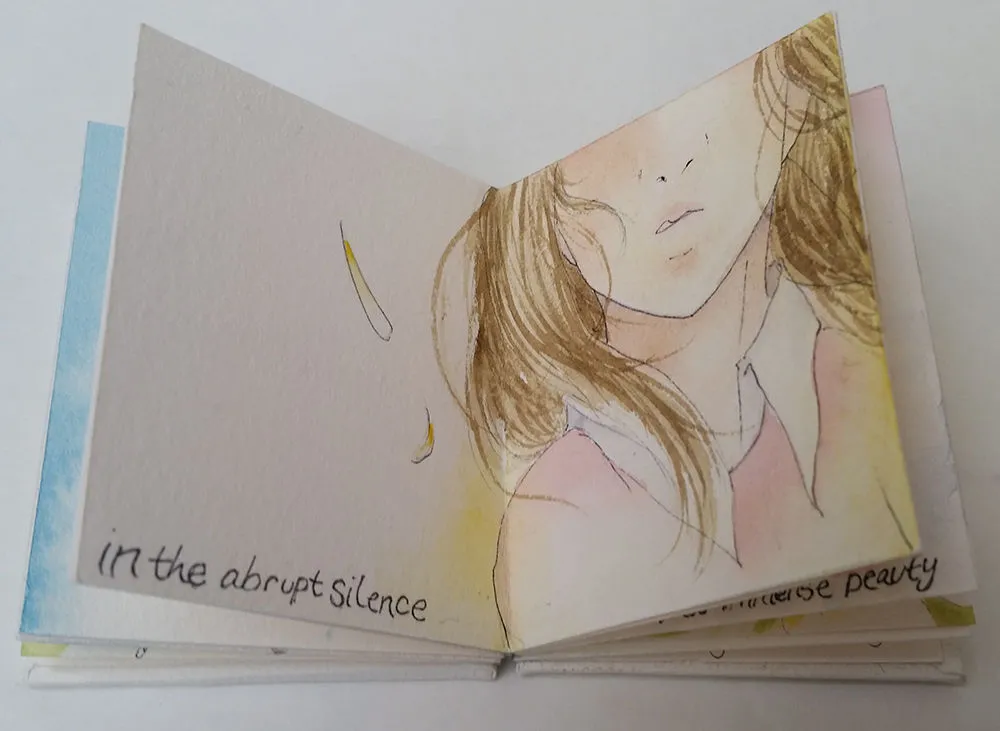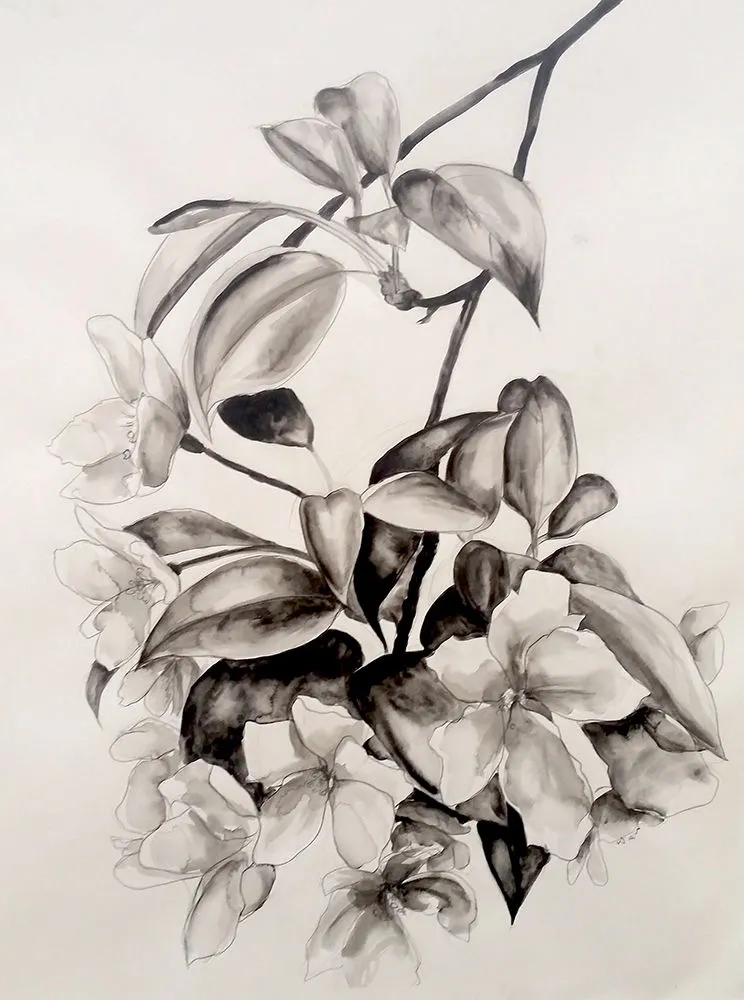 Sarah Borgen
ARTIST STATEMENT
I am interested in exploring the relationships we have with our environments. Like many people, I connect different emotions to specific experiences – awkwardness in the cramped space of a busy street, or a sense of serenity while being surrounded by blue when the sky is reflected in water. I create imagery based on my memories, and my artwork conveys my own relationships with my environments, exploring places that are, from my perspective, compelling and interesting. I have experimented with a large variety of media to convey this message, including ceramics, photography, and watercolor.
My interest in our relationships to our environments is reflected in the scale and tactility of my small, cut-paper works and handmade books. I want viewers to have a physical interaction with my art – the size and dimensionality of these objects evokes an intimate experience, an opportunity for viewers to consider the work from multiple angles. The size creates a direct interaction between a single viewer and the work.
I seek to transport viewers to my emotional experience of a place. Most recently, I have been exploring the small moments of connection we can have with our environments on a daily basis and during unexpected times. Within this framework I investigate these moments visually. For instance, some of my current work addresses the idea of being alone in public places, and the stigma that is often associated with that experience. It is perceived as uncomfortable and stressful, but through photos, I confront this assumption through first-person perspective by presenting the peace and joy one can experience in this situation. I attempt to simplify my environments visually, leaving room for my own reaction to a memory of a space, while allowing the viewer to interpret the space in their own way.
BIOGRAPHY
Born in Saratoga Springs, New York, and calling Red Wing, Minnesota home, Sarah Borgen graduates from St. Catherine University with a degree in Visual Arts Education in May 2018. Her areas of concentration include drawing, painting and graphic design. In her work, she focuses on traditional illustration and bookmaking, utilizing watercolor and digital illustration techniques.
Throughout her time at St. Catherine University, Sarah has gained a variety of professional experiences both on and off campus. In her hometown, Sarah helped develop and teach student programs at the Red Wing Arts Association. In addition, she served as the Jury Coordinator for Ariston, the University's annual student art and literary publication. Sarah was a member of the St. Kate's Education Club and worked as a Resident Advisor for two years, thus developing her education skills while working with students.
After graduation, Sarah aspires to teach art at the elementary level. Her goals include helping students find their love of art, explore their own artistic voices and reach their fullest potential.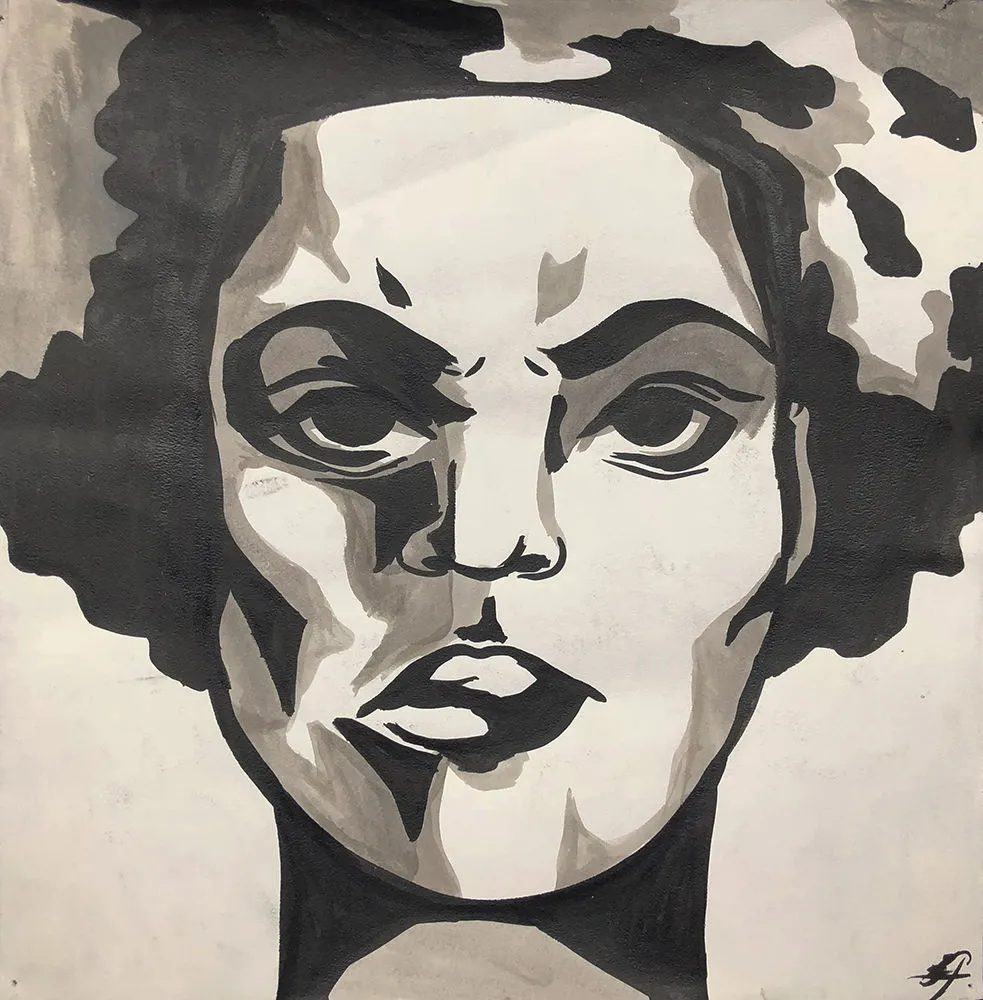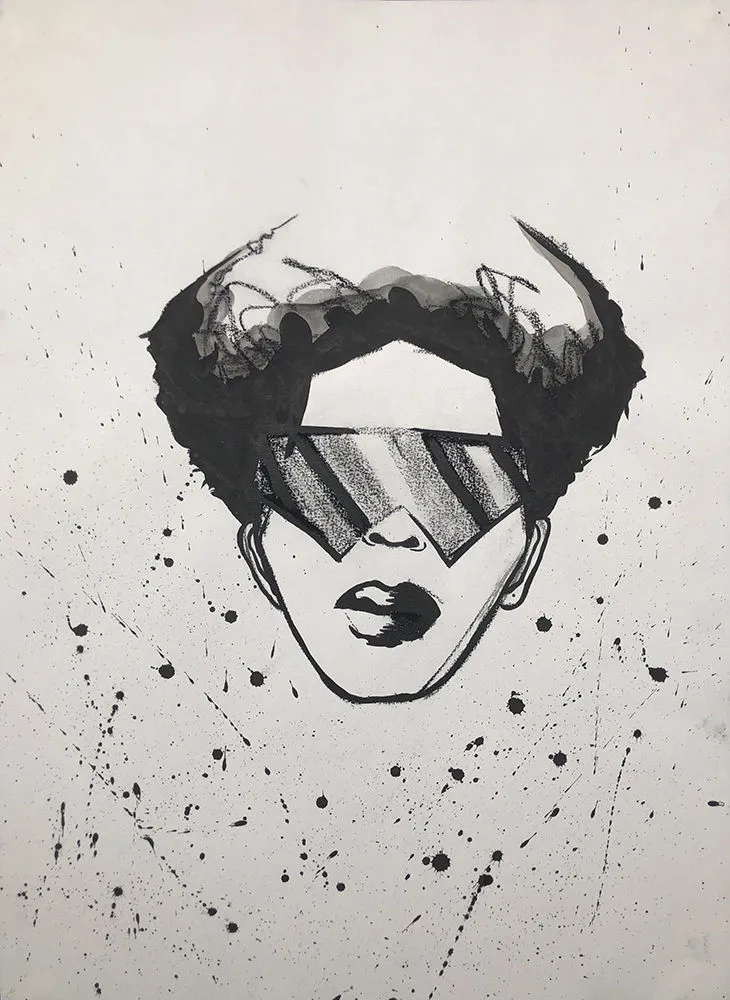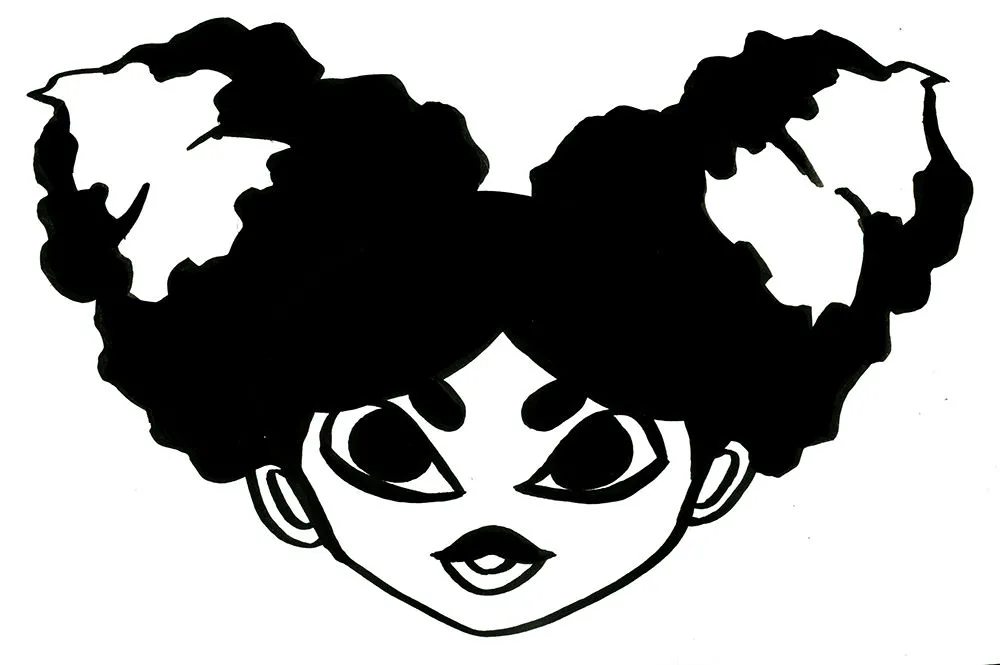 Breanna D. Goudeau
ARTIST STATEMENT
My work reflects my identity: I am black, I am a woman, I am a feminist, I am an artist.
I mainly work with illustrative ink to create stylized images of black women. By simplifying the forms and using a style that is reminiscent of cartoons and graphic novels, I make my drawings accessible to audiences of all ages. At the same time, I intend for my art to contribute to societal conversations about race, class, gender and feminism. These compositions – made mainly in black and white with strong, graphic lines – makes these challenging themes, and the difficult conversations about these themes, more approachable. To convey complicated real-life situations through a comedic visual form and to create imagery that is relatable yet humorous, allows me to express my experiences as a black woman, while finding common ground with my viewers.
Working with images of black women serves another purpose for me: it's a way to challenge accepted visual misrepresentations of black women. The identity of black women – and their pride in that identity, has been continuously berated and dismissed throughout history. I want to bring this representation to the forefront and display the beauty of black women of all shapes and shades. My images celebrate the features of black women. I draw African hair in all styles, and the faces I depict display the features I believe are the best parts of myself: big lips, wide nose and striking eyes.
BIOGRAPHY
Breanna Goudeau is a black, female artist and a feminist located in North Minneapolis, where she grew up. Although she has worked in oil paint, acrylic and graphite, she specializes in illustration with ink, pen and charcoal. Her imagery consists of various forms of black women through simplified, graphic forms. Breanna has been heavily influenced by contemporary Japanese art, a passion that inspired her trip to Japan in August 2017. Breanna is a student of St. Catherine University where she will obtain a B.A. in studio art in December 2018. She was also a 2017 participant in the Women's Art Institute, which culminated in an exhibition in The Catherine G. Murphy Gallery. She currently interns at Courageous heARTS, a non-profit after school program that supports youth exploring their creativity. Most recently, she has been commissioned to illustrate a children's book. Following graduation, Breanna aspires to continue her work as a professional artist and graphic novel illustrator.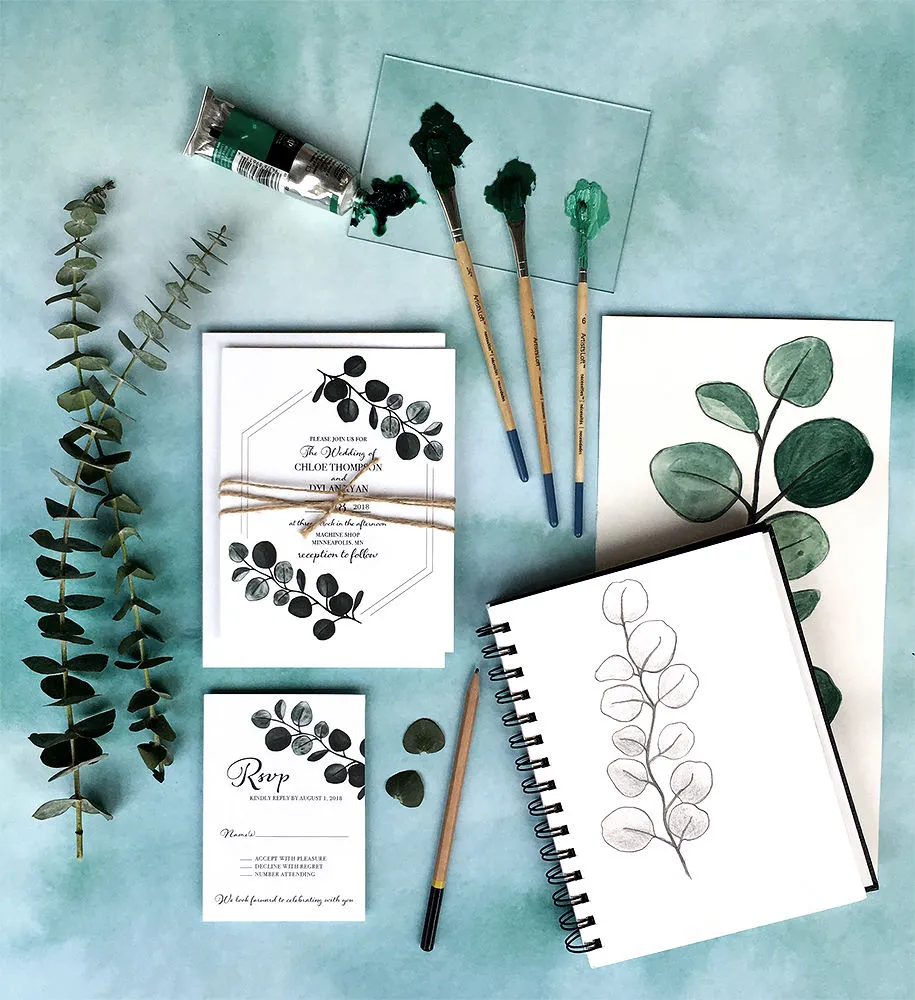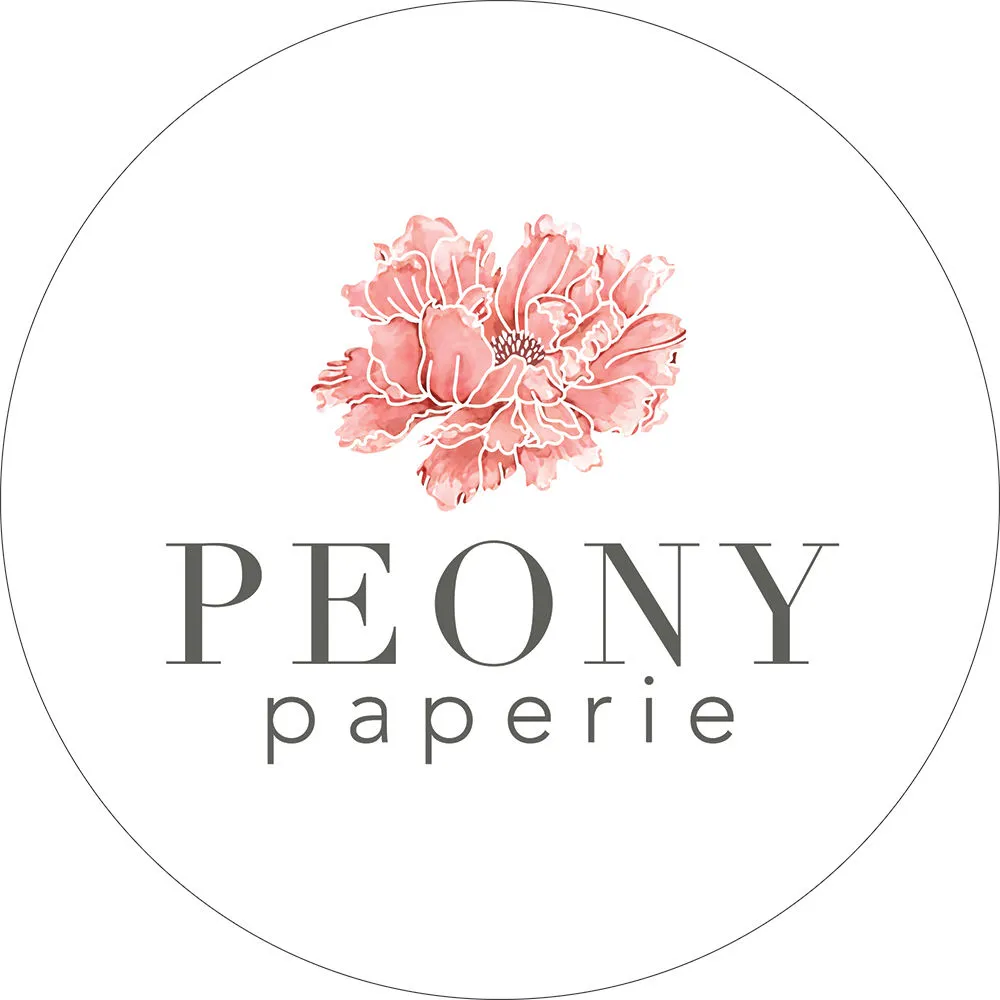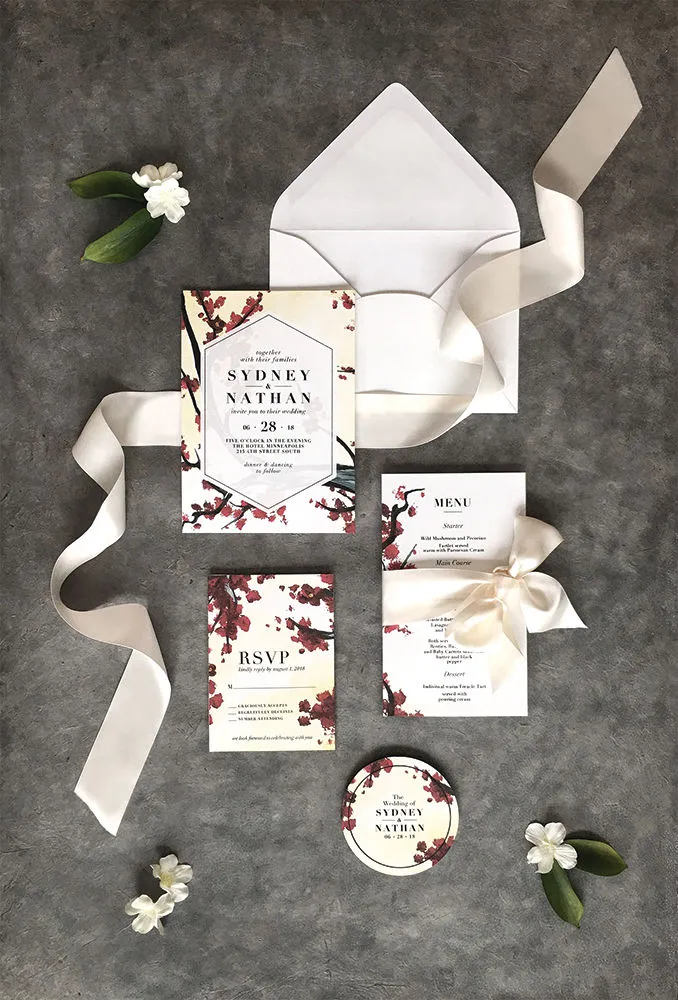 Hannah Haughey
ARTIST STATEMENT
Design, graphics and multimedia can be seen all around us, and their influence is vital to companies small and large. They rely on visual mediums to stand out from the crowd, succeed and grow. In order to do this, they turn to social media, print design, audio marketing, television advertising and branding, embracing the design process to share their messages and convey their identities. I chose to study graphic design because I am interested in participating in this relationship driven by visual communication. Graphic design also offers the opportunity to express my creativity in a professional environment.
My collection of work presents the different areas of graphic design that can be used to represent one company. To explore these areas, I created a pseudo design and stationary company. Through a multi-media drawing and design process, I devised an associated brand and products for the company, including a logo design and three diverse collections of wedding invitations and stationary. I want my viewers to understand the way sketching and painting informs my graphic sensibilities. To achieve this, each collection is exhibited with a portfolio that details the steps of my creative process, from researching imagery and making drawings to aesthetic choices regarding form, style and color. My goal as a designer is to incorporate fine art skills into my designs, which increases their visual complexity and viability as visual forms of communication.
BIOGRAPHY
Hannah Haughey was born in St. Louis Park, Minnesota. She received her Associate Arts degree from Minnesota State University Mankato in 2016. Hannah graduates from St. Catherine University in May of 2018 with a B.A. in studio art with an emphasis in graphic design. Post-graduation, she aspires to work in the publication industry where she can create and design visual media.
Hannah has held numerous internships where she explored different aspects of graphic design. In 2016, she worked at Buccina Studios, a fine art photography studio in Minneapolis, Minnesota. During her time at Buccina, she designed coasters and developed a new web site for the company. In 2017, while at the Minnesota Zoo, Hannah designed t-shirts for the organization's annual fun run and fundraiser. She also created flyers, pamphlets, donor appreciation letters and coasters for a local brewery fundraiser. Most recently, she interned at Tiger Oak Media, a multi-media publication firm located in Minneapolis, where she worked on layout design for three of their bridal magazines.
Hannah has also done charitable work for Breaking Free, an Afrocentric, social justice/social change non-profit organization, where she created pamphlets, a banner and an infographic trifold for presentations and TED Talks.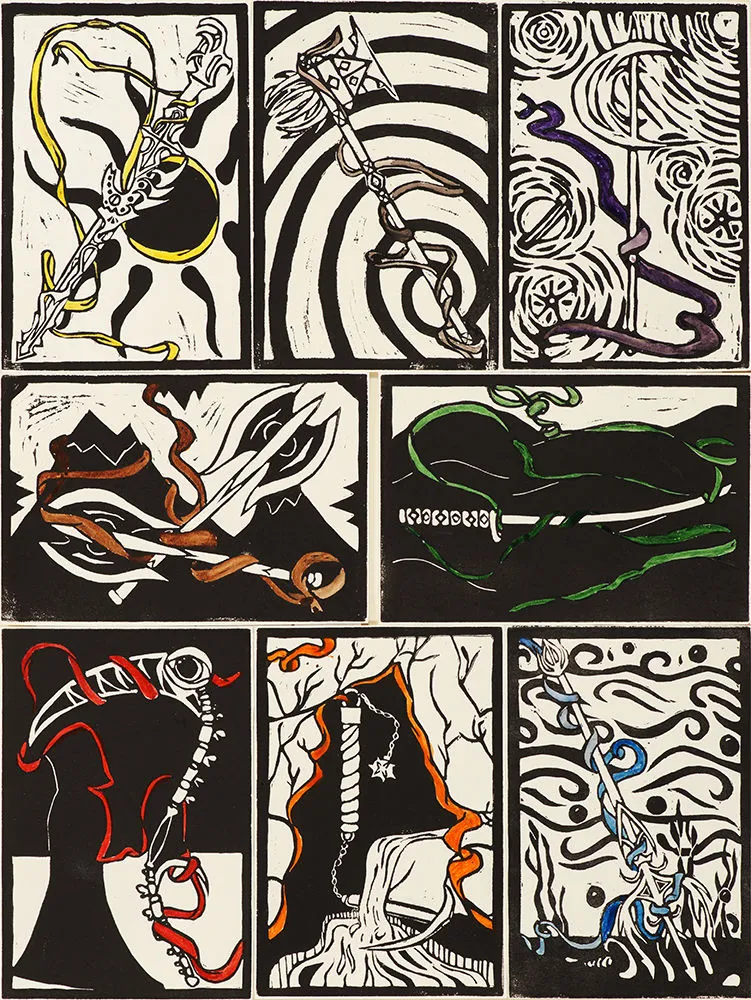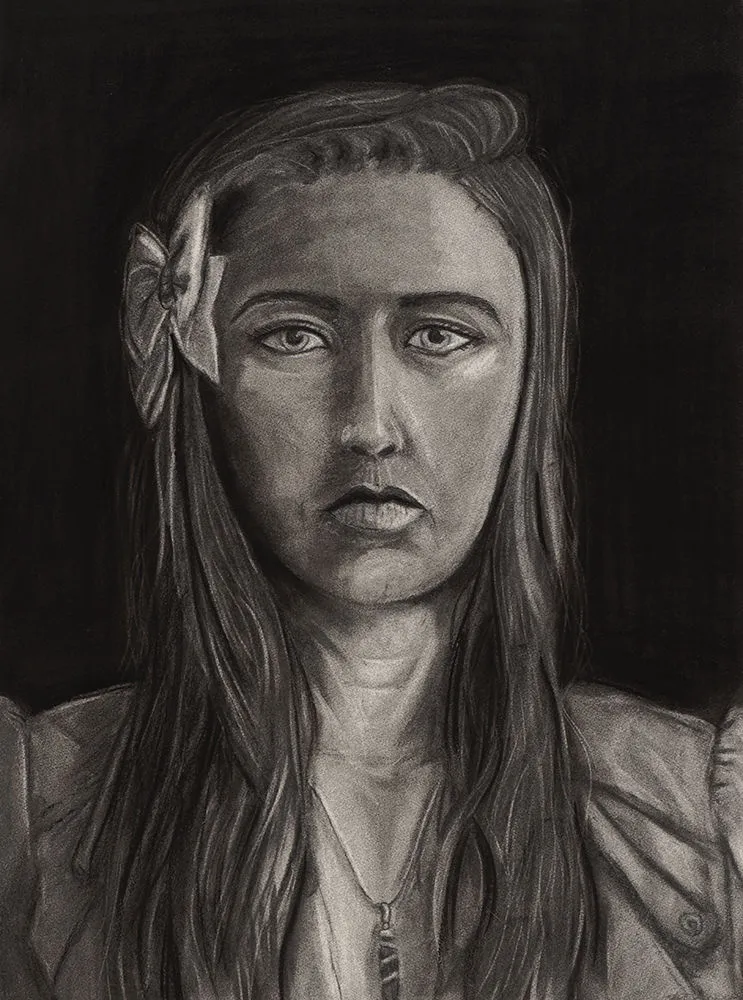 Teresa R. Widiger
Artist Statement
My process is a constant exploration of material. As a result, my work ranges in medium, from drawings and paintings to sculpture and printmaking. I enjoy the challenges offered by each method: drawing provides range in linear density, while charcoal gives rich variation in shading and contrast. The immediacy of painting allows for the quick record of fluid ideas, and sculpture encourages focus purely on form. For me, each medium has its own set of emotions – each begins with a specific feeling, response or impression.
My subjects are inspired by close family and friends. My imagery also evolves from nightmares, daydreams and emotionally intense experiences. My process begins with an emotion, usually one elicited by nightmares. Writing about these emotions is a crucial step to my art making. I believe that the dreams I remember even days later are some of the most important ones.
My artwork includes parts of my being that I love and loath. I love being able to communicate my emotions through art, and I despise that I can't always make exactly what I'm imagining. These equally powerful emotions push me to explore symbolism in my work. This contradiction of love and loath is revealed in the iconography I return to over and over again. Moths represent this contradiction: they are dwellers of the dark but lovers of the light. By combining contradictions like the unimaginable and the familiar, I intend to foster a discussion about how we interact with the world, and how it interacts with us, even through our subconscious.
Biography
Teresa R. Widiger graduates from St. Catherine University in May of 2018 as a studio art major and graphic design minor. Upon graduation, Teresa plans to pursue a career in graphic design in the Twin Cities area. During her time at St. Kate's, Teresa gained valuable professional skills while working for Ariston, the University's annual student art and literary publication. She served on Ariston's photography and design team in 2017 and she is the 2018 Graphic Design Lead. In the summer of 2017, she participated in the Women's Art Institute. During her senior year, Teresa also served as a graphic design intern for art professor Patricia Olson.
Image Gallery
Click an image to view in larger size