West Gallery
November 5, 2016
December 18, 2016
to
Curator:
Kimberlee Joy Roth
Reception:
Saturday, November 5, 6 – 8 p.m.
Informal Gallery Talks: Thursday, November 10, 11 a.m. & 1:30 p.m
All events are free and open to the public
Karen Brown's anthropomorphic ceramic sculptures intertwine self-reflection, self-expression and potential growth within adolescent girls. Brown's "girls" are captured somewhere between reality and the dream world, between childhood and adulthood, between animal and human as they explore their emerging voice.
---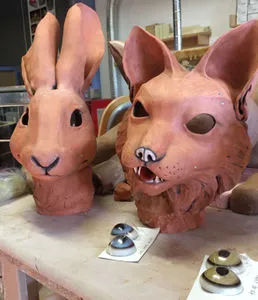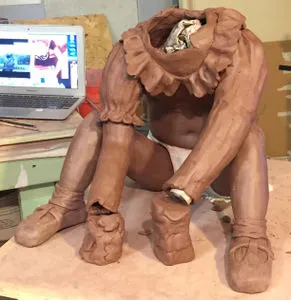 Artist Statement
Karen Ruch Brown
As I merge my past as a young Political Artist with current roles as wife, mother and maturing artist, I realize and come to except that self-reflection plays a large role in my work and my life. I came of age in an era when there were limited opportunities for women. Now, comparing my youth and opportunities to my 19 year old daughter's, I am wondering if it is more challenging to grow up in the world of today. Is it more difficult to overcome emotions of apprehension, doubt and fear?

With a spiritual connection to the natural world and being interested in the lessons we can learn from our animal sisters and brothers, I look beyond human struggles, tapping into energies of magical power animals to express how they might help us to understand our human feelings through transformation,enlightenment and wisdom.

My sculptures create a totemic connection between young women and the natural world. My girls are in a magical place somewhere between reality and the dreamworld, between childhood and adulthood, between animal and human. They have learned how to overcome shame, doubt and fear. They have learned how to rise above destructive emotions by focusing on their hopes and dreams. They can have a life that will soar.
---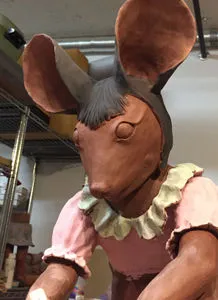 Curator's Comments
Kimberlee Joy Roth
When you were a child were you obstinate, content to be by yourself, always had a new best friend or maybe you were a bit shy?

Karen Ruch Brown's girls show an instant in an adolescent girl's day, be it maneuvering through a maze of changing emotions, realizing that relationships with a "friend" are complex or expressing one's own joy without the concern of judgment or approval.

I invite you to reflect on your own youth as you spend time with them. Brown's anthropomorphic sculptures reflect and express the growth, in both confidence and emotion, we all have experienced when we experimented with social interactions, slowly gained acceptance within a social group or expressed our individuality within a larger global community.
Image Gallery
Click an image to view in larger size