Virtual
April 30, 2021
May 23, 2021
to
Artists:
Autumn Nuss Oehlke, Sydney Ockenga
Explore the many pathways that our lives journey through and the various ways they take shape through the art of students Autumn Nuss Oehlke and Sydney Ockenga. In their show, they observe ideas such as: processing life and death, understanding the reflections of those around us, and the adventure of self-exploration. These themes are guided by the artists' questions: How are our stories told? What does the character of death look like? Where are we in the present?
---
Recording of Virtual Artist Talk, May 6, 2021, 12-1 pm
Autumn and Sydney discuss the work on view in their senior juried exhibition, Journey; Body Guiding Soul.
The Catherine G. Murphy Gallery is temporarily closed due to the COVID-19 pandemic. View the entire exhibition below. All sales are made directly with the artists. Artwork prices do not include shipping. For more information, please contact Gallery Director Nicole Watson: nmwatson@stkate.edu. Thank you for visiting!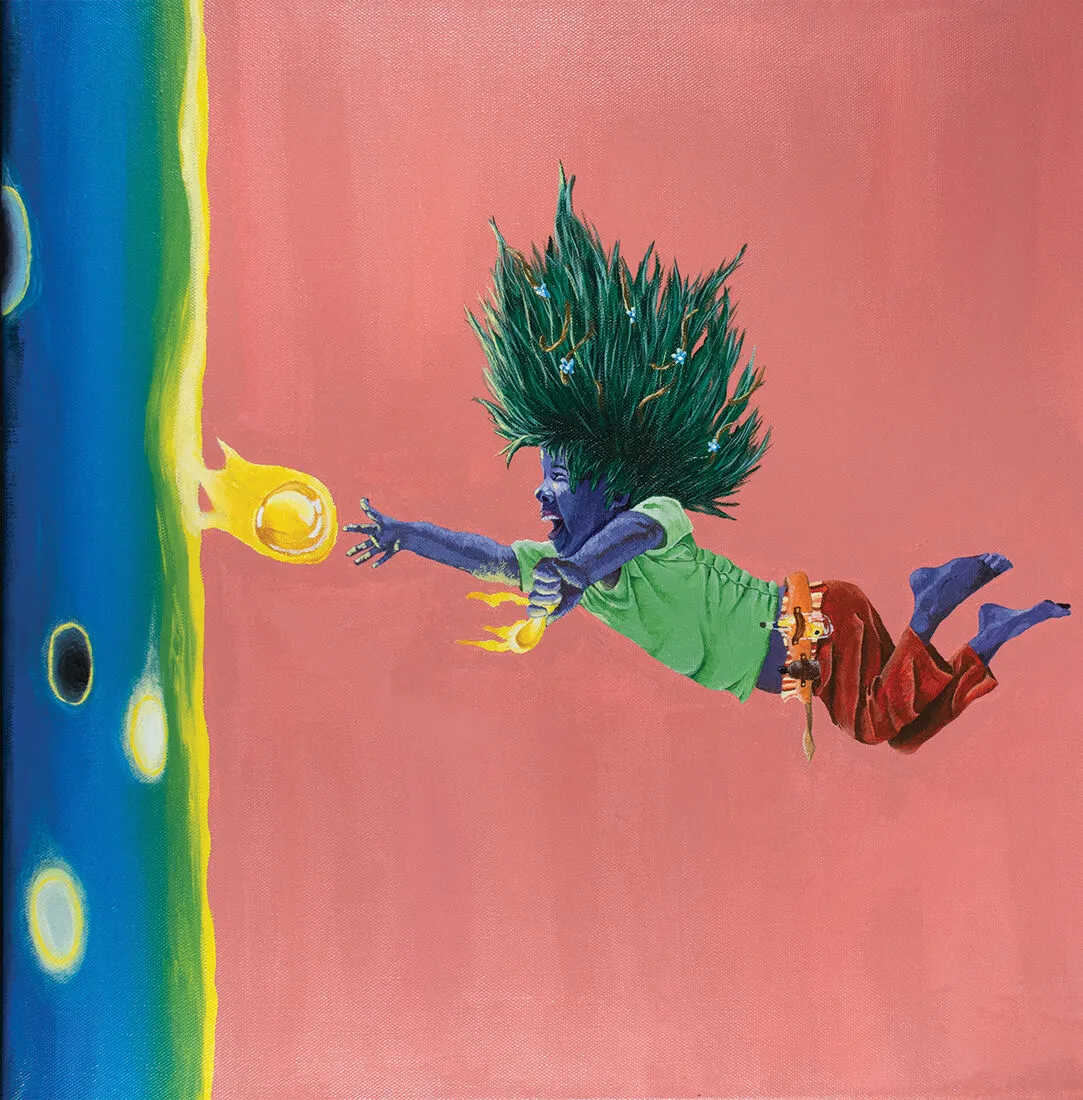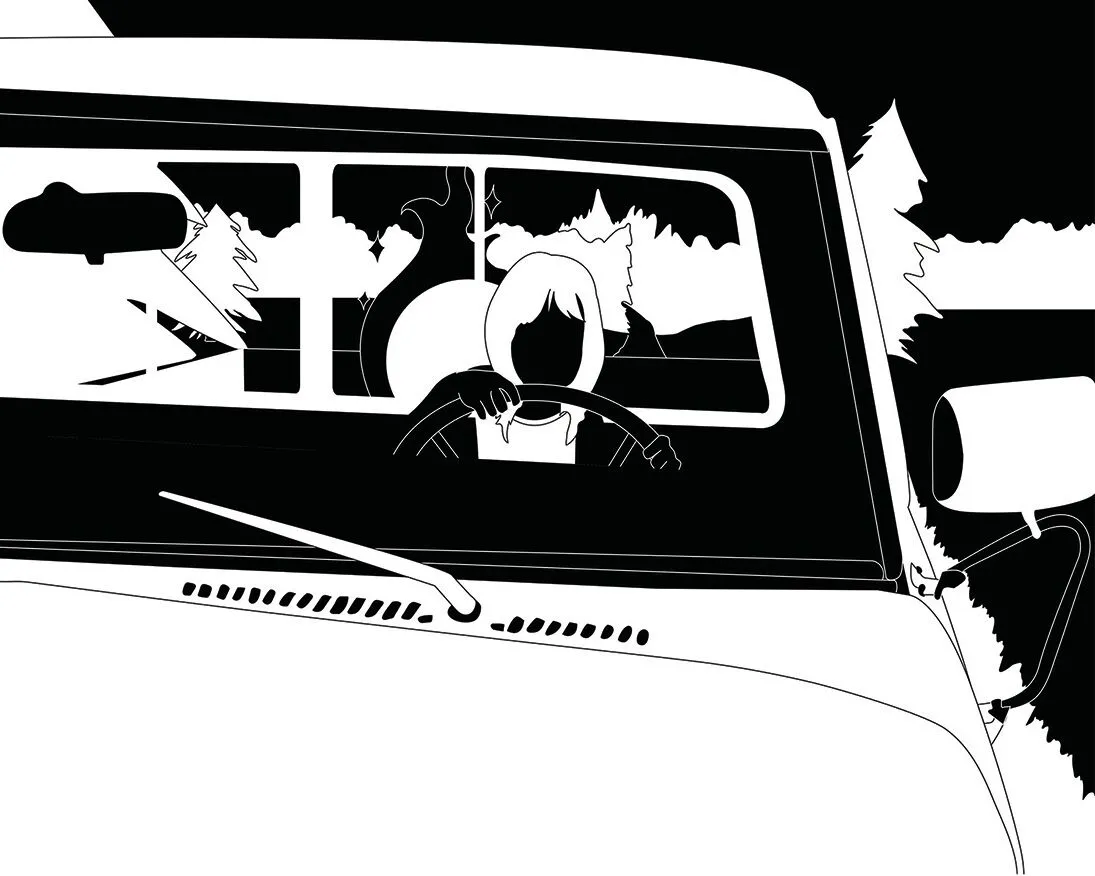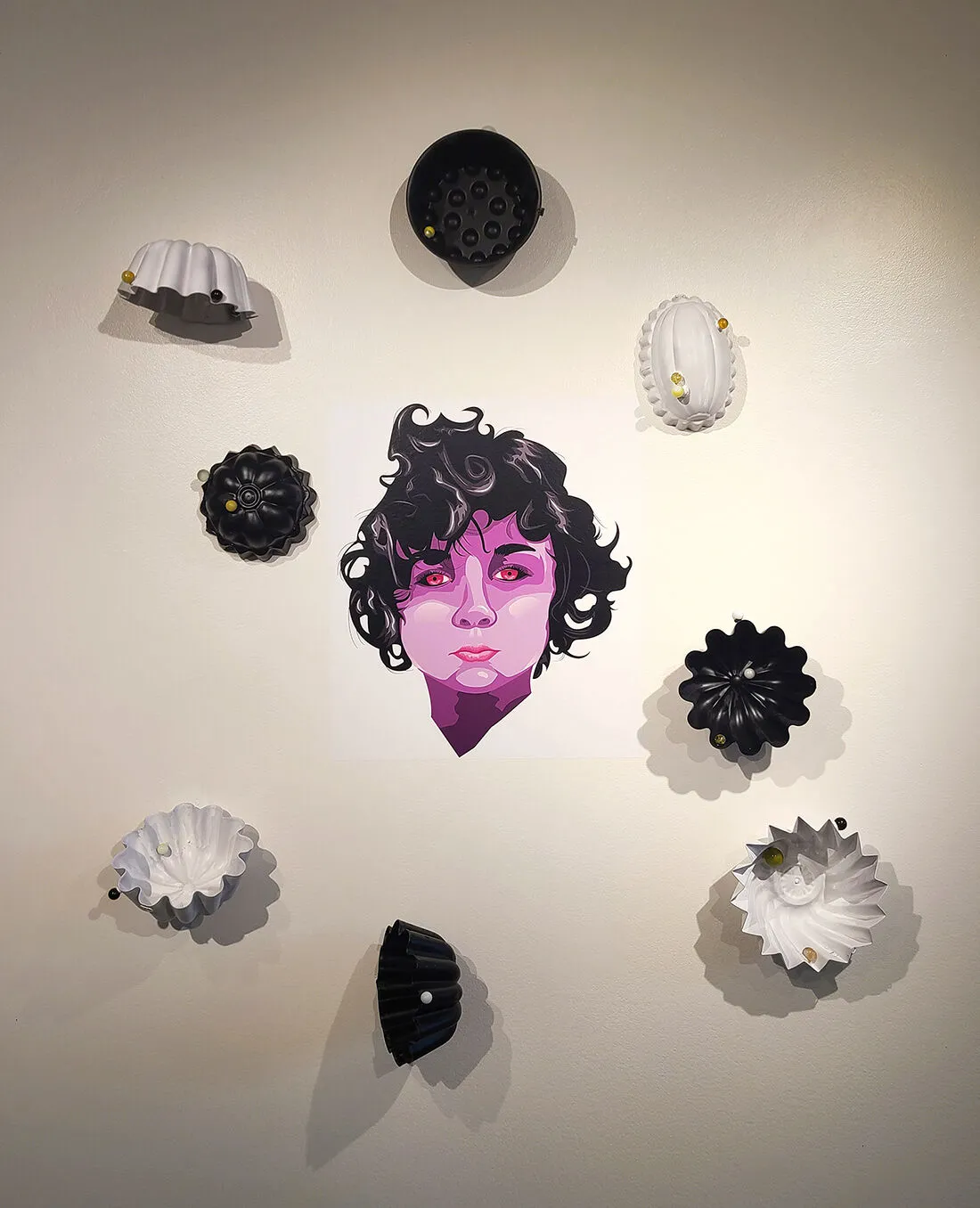 Autumn Nuss Oehlke
BIOGRAPHY
Autumn Nuss Oehlke is a multimedia artist with particular interest in digital design and painting. They will graduate from St. Catherine University in May 2021 with a B.A. in studio art; they previously received a B.A. in American Sign Language in 2018. Weaving narratives of the winsome and woesome has been a lifelong past-time of theirs. Having been born in and moved all around Minnesota, Autumn is wanderlusting at their chance to relocate to the Pacific Northwest during summer 2021, where they will pursue a tattoo apprenticeship at Garland Tattoo and Piercing. Their two-person exhibition, Journey; Body Guiding Soul, is a dream realized.
ARTIST STATEMENT
Being a starry-eyed space cadet (or perhaps, captain?) with a hankering for adventure, I am experienced at laying the groundwork for narratives. Being drawn to the unknown, investigating other's lives and stories is an infinite well of inspiration for my art practice, and escapism is an old friend of mine. With these ideas as my foundation, I am able to conjure up the worlds represented in my work. By showing glimpses of these places, I invite my audience to not only view these worlds, but contribute to them, too. In doing so they are in control of their experience; allowing their minds to run feverishly amok, or settle deep in their stomachs for some quiet reflection.
In my most recent work, I aim to create a world in which Death is a less misunderstood main character. I hope that others take the opportunity by observing my pieces to further understand their individual narratives surrounding the process of death and the journey of the soul. The end of our adventures during this lifetime is something we must all come to face. This will look different for all individuals; so I have intentionally left much unseen in the space I have created. Here the audience has the ability to imagine more tools, environments, and characters that may come into play. By reflecting on how and why they choose to include these imagined elements, there is opportunity to better understand their own narratives on death and the ways in which they interact with their individual and joint realities.

I work with a variety of mediums: painting, digital design, crafting, and mixed media are some of my favorites. By incorporating and combining these different materials in my practice, I hope to expand on the ways in which others visually and emotionally receive my work.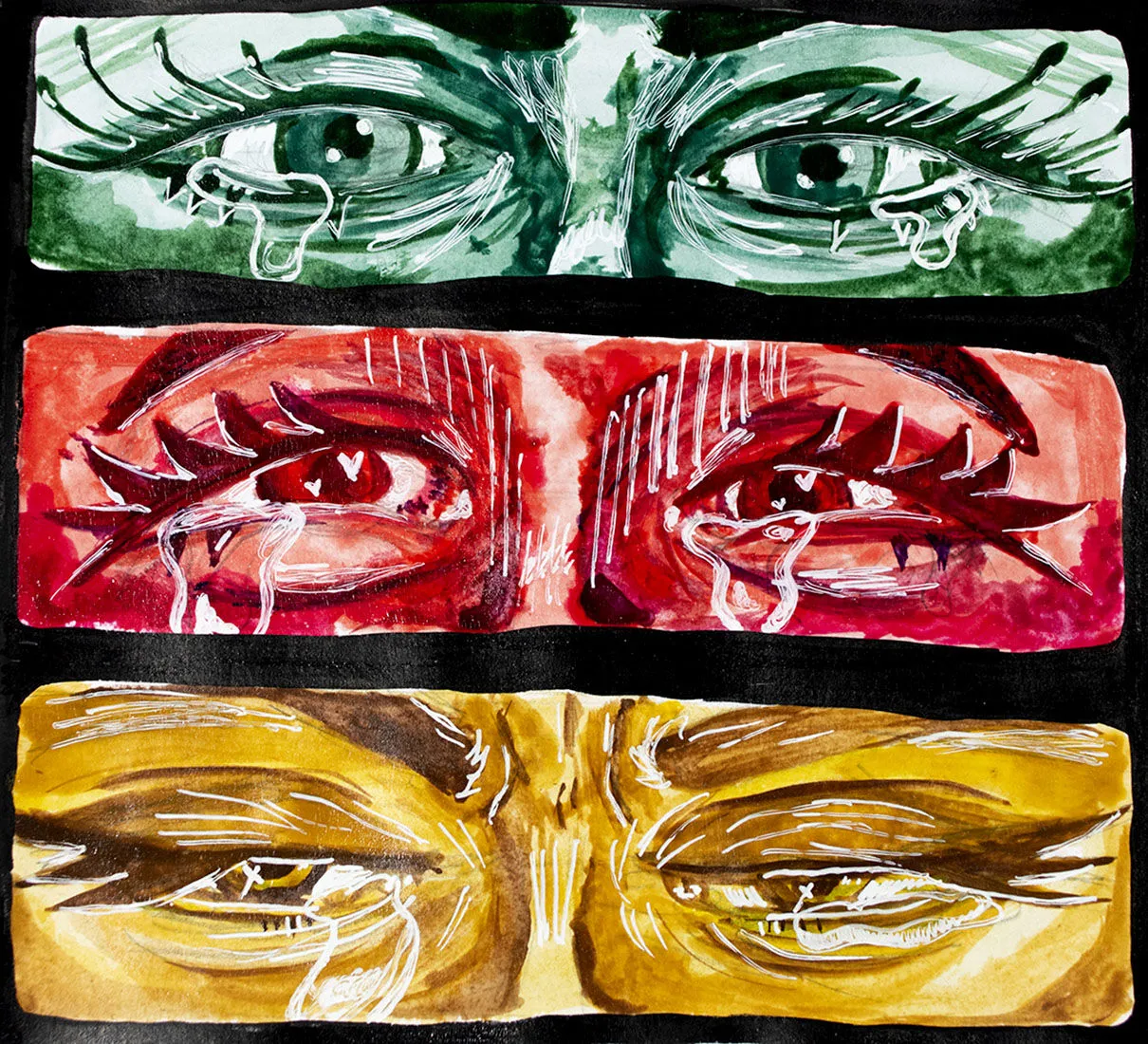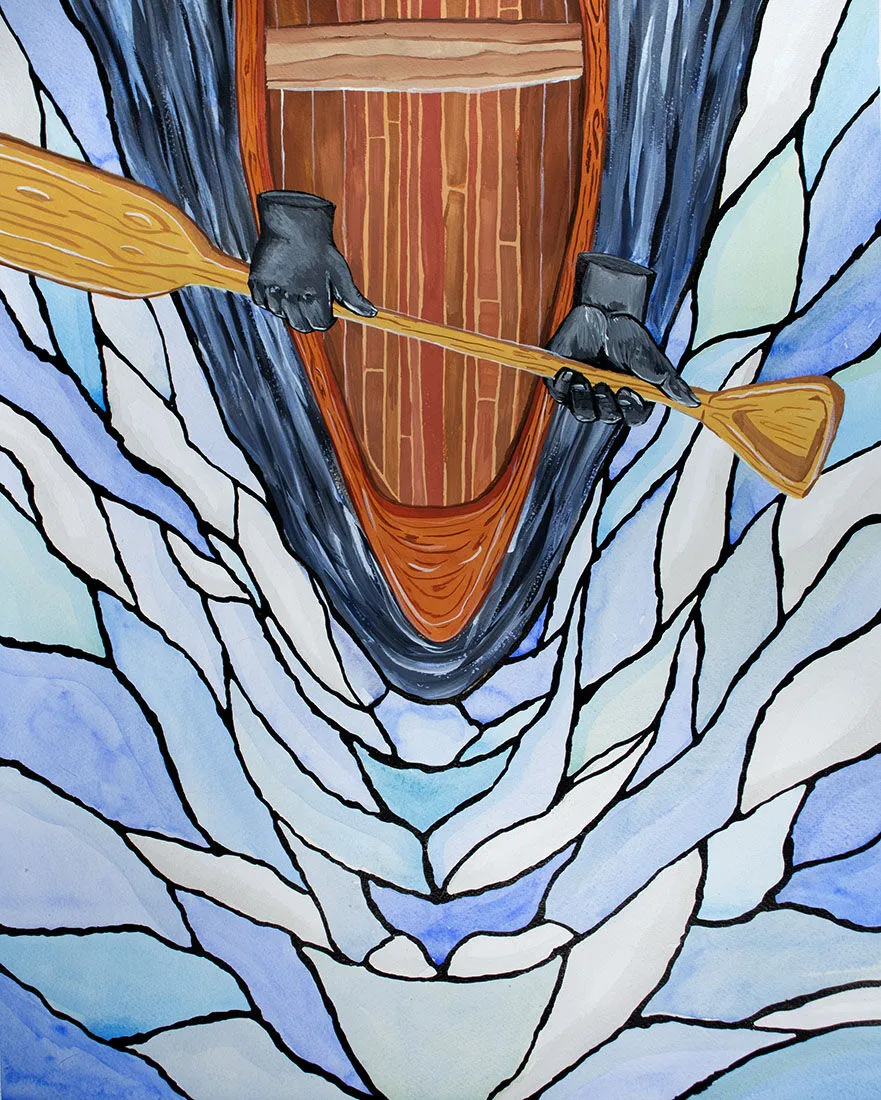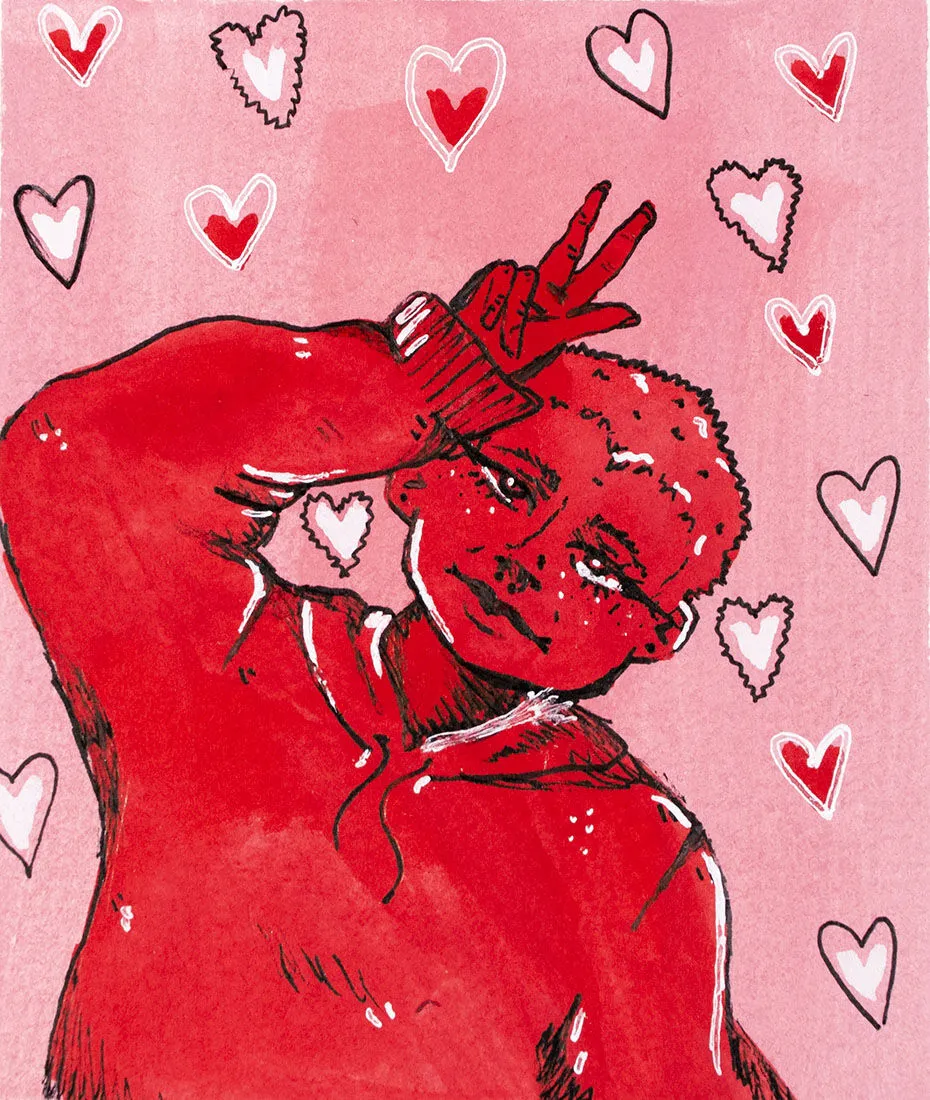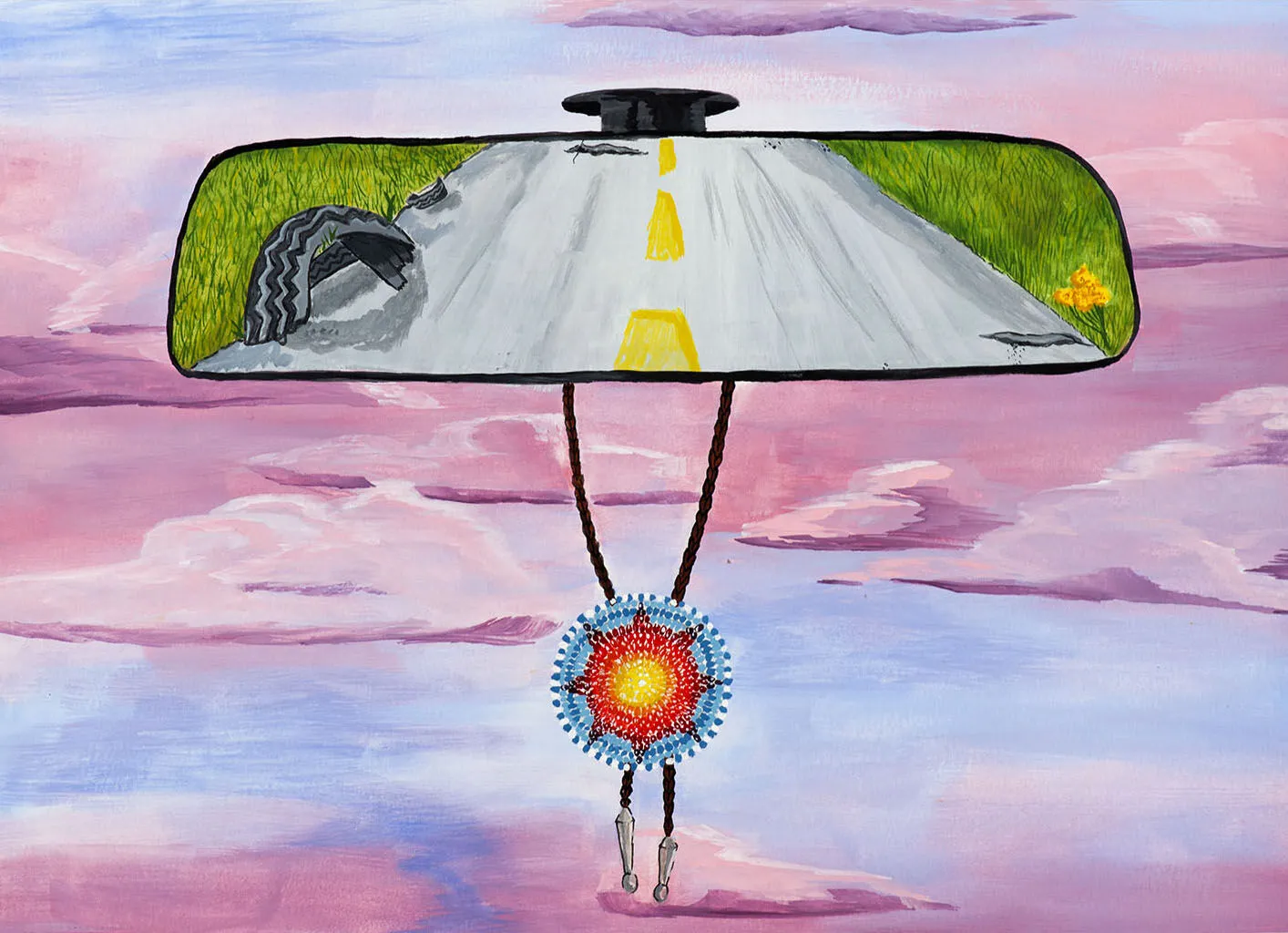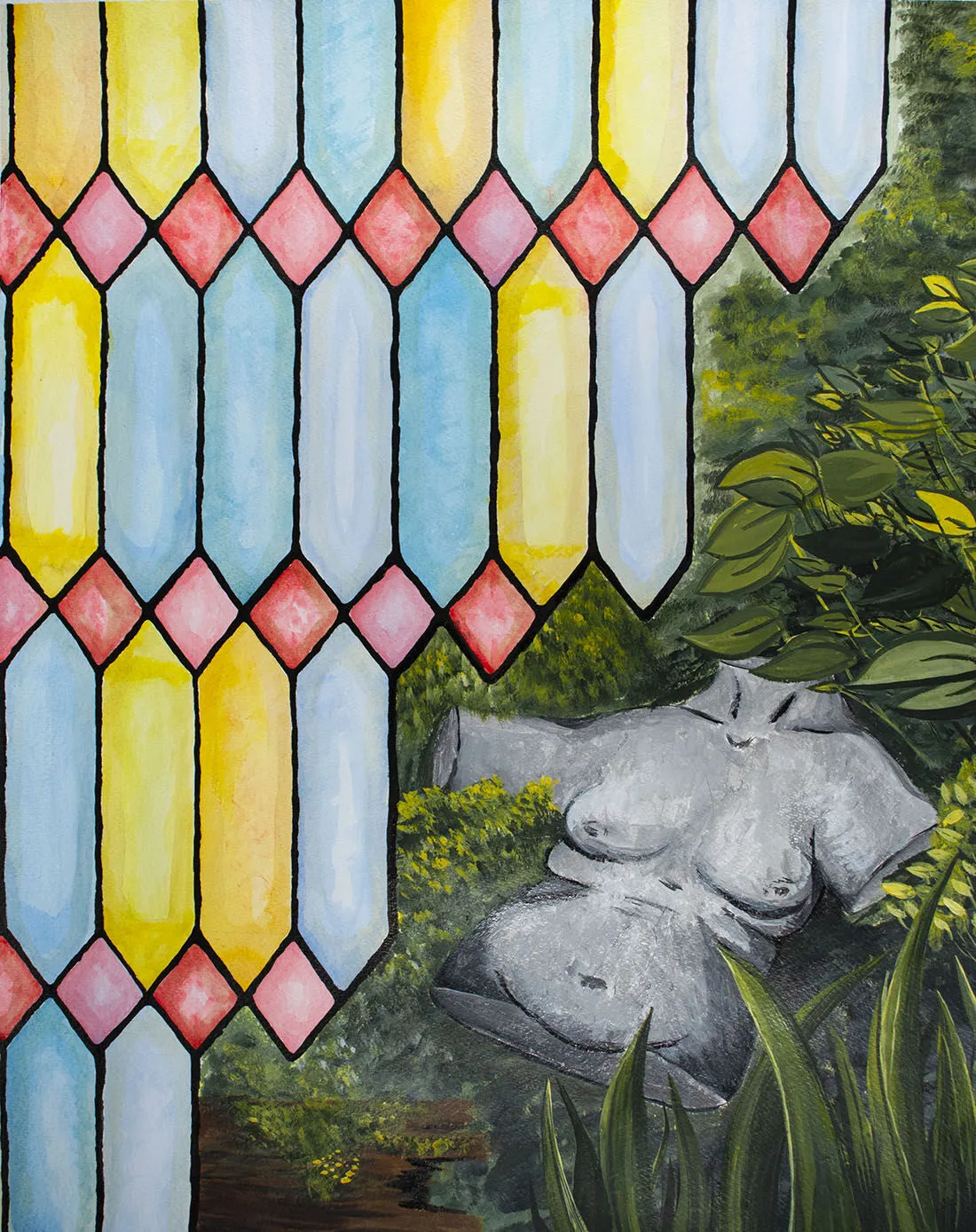 Sydney Ockenga
BIOGRAPHY
Sydney Ockenga (they/them) is a St. Paul artist and student originally from Egan, a small town in South Dakota. Sydney will graduate from St. Catherine University in May 2021 with a B.A. in both studio art and art history. They create art as an outlet for reflecting on their life experiences and to make connections to feelings that arise through storytelling. Growing up in and around the tribal lands of the Lower Sioux nation of the Flandreau Santee tribe of which their family are members, Sydney has always had a curiosity for exploring stories and the ways they appear in the world and in nature. Taking in the stories of the people and places around them, Sydney saw how their own life story and experiences contributed to those around them and in return they saw the reflection of community. Hearing the stories of family members and friends, and exploring the relationship between people and their stories, is where Sydney finds the inspiration to create art.
When Sydney started attending St. Kate's, they saw an opportunity to share their experiences and explore the nature of decolonization with a new community. Inspired by Waziyatawin's text, What Does Justice Look Like?, Sydney created and led Truth-Telling Forums. Encouraged by E. Tuck and K.W. Yang's question, "What does decolonization ask of us?", posed in their essay, Decolonization is Not a Metaphor, Sydney used the forums to bring together people in and around the St. Catherine University Art and Art History Department to create a community dedicated to thinking critically about the ways we teach and create art. These forums encouraged the community to engage with art through a decolonized mindset, to be more mindful of Indigenous people while calling for more truthful conversations about the violent history of the United States and the land it now occupies, which was obtained through genocide and cultural erasure. It was in these forums and in conversations around the St. Kate's community that Sydney saw the power and energy that a communal drive for social justice can have, and decided that it was the same energy they wanted to express in their art. Sydney's work within the Art and Art History Department on projects like the Truth Telling Forums and their Toolkit for Decolonization earned them the Amy Sears Memorial Scholarship for both the 2019-2020 and the 2020-2021 academic years.
ARTIST STATEMENT
In my own eyes, art is purely reactionary. My current work focuses on the nature of storytelling. My goal is to create a dialogue between my art and the audience, to build a relationship between the viewer and the work. I hope that each person engaging with my work can find a new perspective that they have not considered before, or begin to understand the value of communication within a community. Communication can take the form of dialogues that lead to a broader understanding of how audiences can view art; or a discussion of art that leads to viewers being introduced to a worldview that they have not yet experienced. Communication leads to stories being shared. Stories of individuals, communities, culture, experiences—all are unique to the storyteller, giving audiences new ideas and ways of thinking.
I want to share my life experiences, emotions, and ideas through art. I want to own my own story and identity as a storyteller. At the same time, I also strive to help others find their own identity through art. For me, this exchange includes trying to find a common understanding of each other and a broader understanding of our communities and how they represent themselves. In turn, I think this leads to learning to value one another's knowledge and perspectives, shared through personal stories about the world and land we walk every day. Because the people are part of the land.
I believe art is a unifying experience. Not only in the making of artwork, but also in engaging with it. Thoughts and feelings are shared through art and it is fascinating to me to witness all of the unique ways that different audiences can find a connection through art. I don't set out in hopes of changing the minds of the masses with my art. In my own experience, however, we can speak to one another through art. How we react to it creates a bond between us. My philosophy of art is that it provides us with a common ground that we can use to expand our ability to empathize and communicate. Art can exist as a medium of understanding that is not explicitly binary or stagnant. New perspectives are out there waiting to be discovered and shared with each other, art is just one of the pathways that allow that discovery and conversation. It seems pretty radical, but it all starts with a story.
Virtual tour of Journey; Body Guiding Soul
Welcome to the Second Floor Gallery of the Visual Arts Building!
Image Gallery
Click an image to view in larger size