West Gallery
February 3, 2018
March 16, 2018
to
Curator:
Dr. Viki D. Thompson Wylder, Sponsored by The Friends of The Catherine G. Murphy Gallery
Reception:
Saturday, February 3, 6 – 8 p.m.
All events are free and open to the public
Born Again features selected artworks from Judy Chicago's Birth Project, a series of screen prints, needle works and textiles that first toured the United States during the mid-1980s. Chicago collaborated with over 150 experienced needle workers to create this series, which addressed the dearth of birth imagery in western art. Born Again takes a fresh look at the themes investigated in the Birth Project and considers their impact – art historically, societally and intellectually – 30 years after its creation.
This exhibition has been organized by Through the Flower in conjunction with the Albuquerque Museum of Art and the Florida State University Museum of Fine Arts.

Q&A with Kris Wetterlund, local embroidery artist for the Birth Project
February 16, noon
Join us in the gallery for a conversation with Minneapolis native Kris Wetterlund. Kris will discuss her experience working with Judy Chicago on the Birth Project.
Free and open to the public.
Panel Discussion | Everything Was New: The Arts Core Program for Women at the College of St. Catherine, 1975-1976
March 7, 7:00 p.m.
Sponsored by the Women's Art Institute and the Abigail Quigley McCarthy Center for Women at St. Catherine University
Judy Chicago was a major mover in the development of feminist art education in the United States and locally at St. Catherine University. Join us for reflections and remembrances of the controversial Arts Core Program for Women by the women who were there. Instructors Ann Jennings and Carole Fisher join participants Sandra Menefee Taylor and Terri Hawthorne in considering: Why did it happen at St. Kate's? What were Judy Chicago's contributions? What was it like to teach and to learn? What is its legacy? Moderated by Patricia Olson, Director of the Women's Art Institute.
---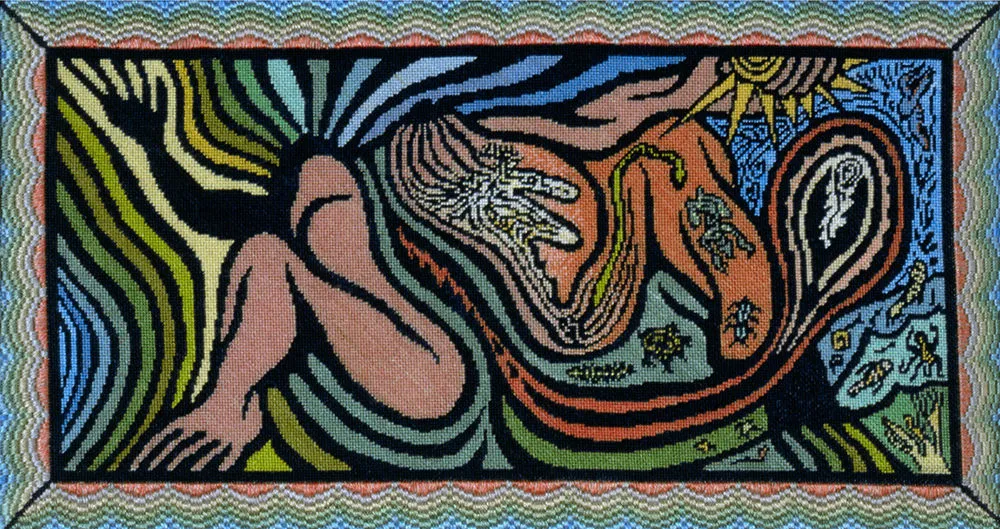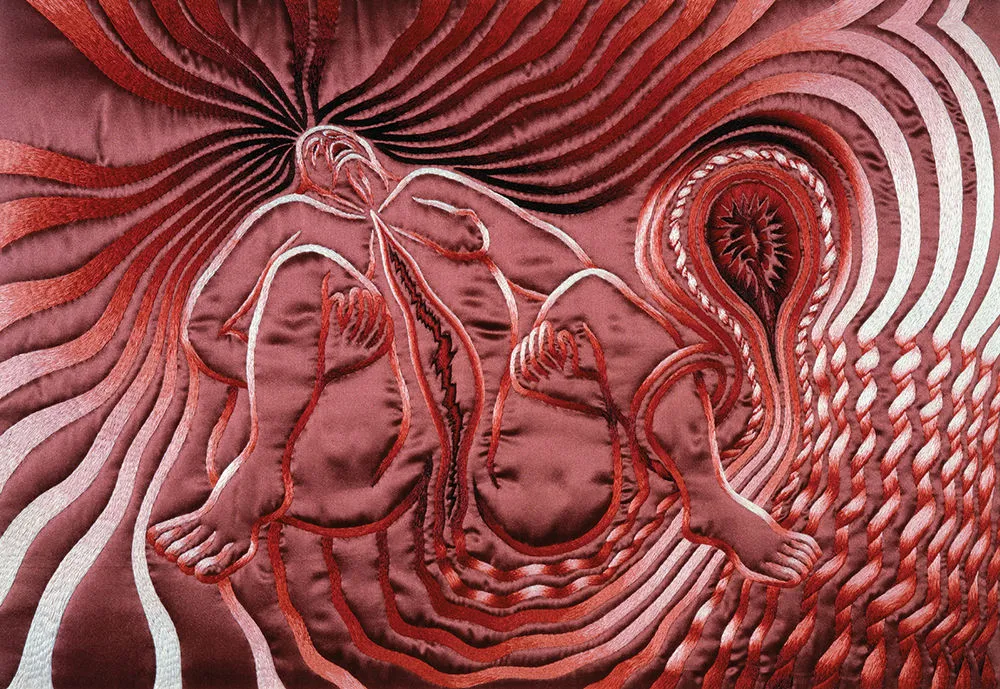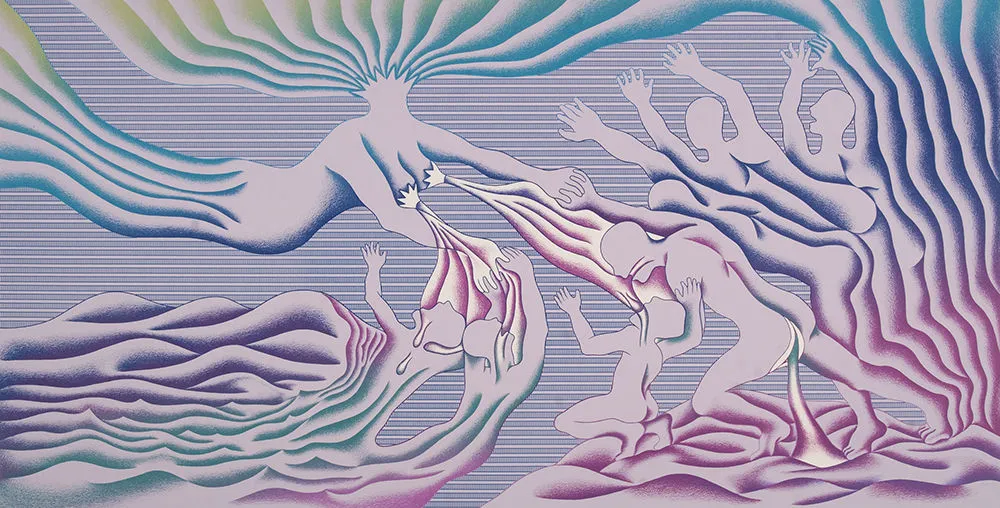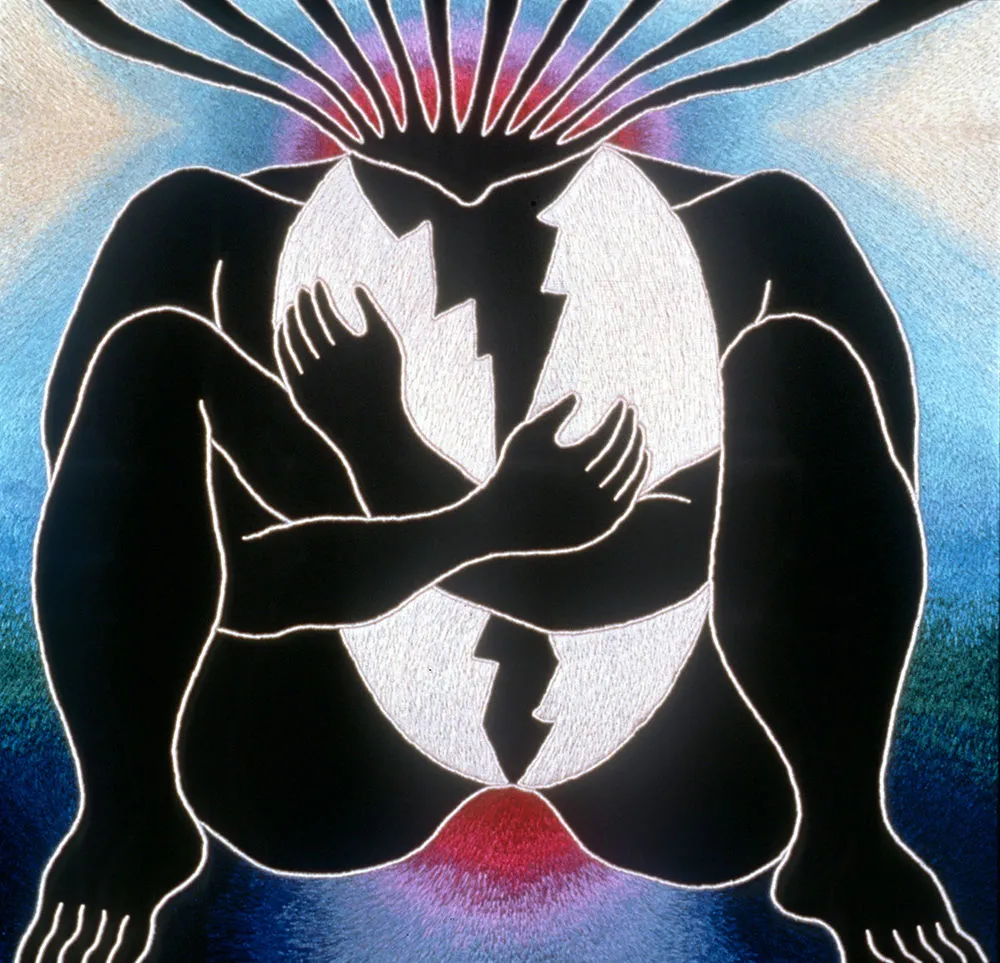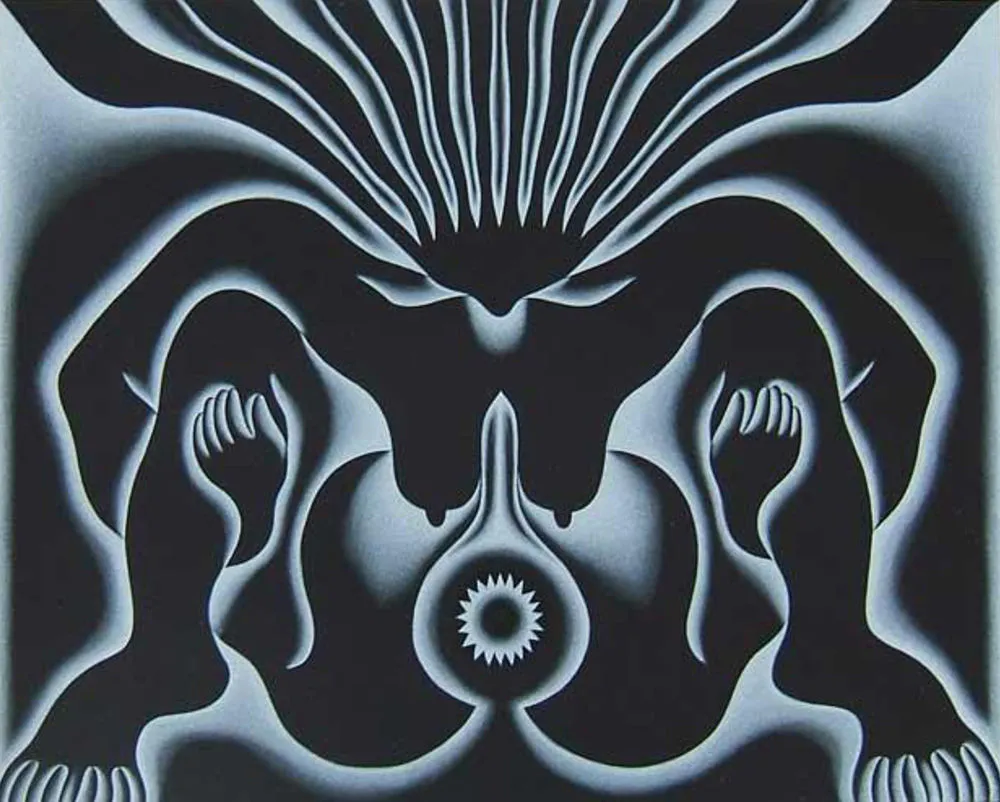 CURATOR'S STATEMENT
Viki D. Thompson-Wylder
The Birth Project [1]— Judy Chicago's analysis of the interrelationships among gender, femaleness, maternity and motherhood — was thirty years ahead of its time. Chicago was the first to comprehensively address the issues found within the series. Completed between 1980 and 1985, these images afford a vision seldom seen in western culture since the Neolithic, when woman embodied Creation itself as well as the many manifestations of individual creation: human, plant, animal and mineral. Chicago wanted to reveal birth as spiritual and intellectual, a source of potent myth and symbol. She also wanted to show the reality and physicality of the birth experience. Historically, nearly all western images of mother and child were idealized or sentimentalized. In the early years of this century, several exhibitions raised more complex themes about motherhood – for example, the ambivalence women may feel about taking on the responsibility of another human life. Chicago's own complex visual exploration of maternal cognitive dissonance within the Birth Project precedes these exhibitions by nearly twenty years.
Renewed interest in the maternal body makes this exhibition timely. A number of recent political and scientific developments re-emphasize women's bodies as commodities. In contrast, all Chicago's bodies are empowered, and her images encourage viewers to perceive women in unaccustomed ways. Illustrative of this is the woman depicted in The Crowning, who is inter-sexed as well as interspecific. Chicago offers women a changed self-norm.
The Birth Project was stitched by 150 women needle workers who joined Chicago over the five-year period of its production to complete approximately 84 textiles for a series of "exhibition units." Chicago worked with needle workers, providing under paintings, cartoons, drawings, mock-ups, color specifications and written directions for the transformation of her images. One needle worker summarized the process: "We are creating within Judy's creation." [2] Every needle worker receives public credit for her work.
The medium of textiles, quilting and embroidery, associated with craft since the Renaissance, was returned by Chicago to its medieval standing as an art medium. Chicago's ability to transform the "discriminated-against" status of textile and needle media encouraged the use of such media by other artists. Like The Dinner Party, Chicago's execution of the Birth Project helped redefine terms like "art" and "craft."
For Chicago, focus on skill determined the work as craft, while focus on meaning determined the work as art. The meaning of the Birth Project was, and continues to be, revolutionary.
This exhibition reassembles a number of exceptional Birth Project works. Originally, the Birth Project was divided into groups of pieces and shown simultaneously as exhibition units in galleries, museums, libraries and hospitals throughout the United States. The accompanying documentary book, which is now out of print, provides the only overview of the Birth Project. Among past schools of feminist thought were those that perceived an emphasis on sexual difference as a basis for criticism of the imagery explored in the Birth Project. Feminist historian Jane Gerhard, however, hails sexual difference as "possibly the only starting point for understanding" the next phase of the women's "revolution." [3] The Birth Project was designed by Chicago, and is now "born again" in this exhibition, a continuing force for cultural change and aesthetic transformation.
[1] The book published in 1985 to accompany the original exhibitions of Birth Project work provided much of the information for this essay as well as the commentary for each work in this show: Judy Chicago, The Birth Project (Garden City, NY: Doubleday, 1985)
[2] Chicago, Birth Project, 164.
[3] Jane F. Gerhard, The Dinner Party, Judy Chicago and the Power of Popular Feminism, 1970-2007 (Athens and London: The University of Georgia Press, 2013), 287.
ABOUT THE ARTIST
Judy Chicago
Judy Chicago is an American artist, author, feminist and educator whose career spans five decades. Her art is exhibited in the U.S. and abroad. She holds five honorary doctorates and she is the author of fifteen books, many published in foreign editions. In the early 1970s Chicago pioneered feminist art education through a unique program for women at California State University, Fresno. From 1974 to 1979, Chicago turned to women's history to create, with hundreds of volunteers, The Dinner Party. It found permanent housing in 2007 at the Brooklyn Museum as the centerpiece of the Elizabeth S. Sackler Center for Feminist Art. From 1980 to 1985, Chicago worked on the Birth Project and while completing that series, created PowerPlay, which brought a critical feminist gaze to the construct of masculinity. After eight years of work, the Holocaust Project: From Darkness Into Light premiered in 1993 at the Spertus Museum in Chicago. The Holocaust Project features the merging of Chicago's painting with the photography of Donald Woodman. Resolutions: A Stitch in Time was Chicago's last collaborative project. Begun in 1994 with skilled needle workers, Resolutions combines painting and needlework in a series which reinterprets adages and proverbs. More recently Chicago has focused on glass as a medium in the series Heads Up, completed between 2007 and 2013. In 2011 and 2012, in multiple venues and events, Chicago presented A Butterfly for Pomona, her first fireworks piece since 1974. Chicago's important contributions to southern California art were also highlighted in "Pacific Standard Time," a Getty-funded celebration of the region's history. In 2014, Chicago's pyrotechnic A Butterfly for Brooklyn marked her 75th birthday, with 12,000 people viewing the work.
---
Q & A WITH KRIS WETTERLUND
Minneapolis native Kris Wetterlund discusses her experience working with Judy Chicago on the Birth Project. Kris's embroidery piece, Hatching the Universal Egg, is part of St. Catherine University's Fine Art Collection and is featured in the exhibition, Judy Chicago's Birth Project: Born Again.
EVERYTHING WAS NEW: THE ARTS CORE PROGRAM FOR WOMEN AT THE COLLEGE OF ST. CATHERINE, 1975-1976
Reflections and remembrances of the controversial Arts Core Program for Women by the women who were there. Moderated by Patricia Olson, Director of the Women's Art Institute.
Judy Chicago and the Feminist Art Movement were a movement to democratize the institution of Art."
- Ann Jennings
Professor Emerita, St Catherine University
Image Gallery
Click an image to view in larger size