West Gallery
February 4, 2023
March 19, 2023
to
Artists:
Angela Two Stars, Jaime Black
Reception:
February 4, 5–7pm. Angela Two Stars will perform Healing is a Process at 6:30pm.
Additional performances of Healing is a Process by Angela Two Stars: Thursdays, February 16, March 2 and March 16. All performances begin at 6pm in the West Gallery. Free and open to the public.
Film Screening and Artist Discussion at The O'Shaughnessy with Angela Two Stars and Jaime Black:
Tuesday, February 7, 6–8pm.
Free and open to the public, tickets required. Reserve free tickets here.
St. Catherine University is screening two films: TPT's documentary, Bring Her Home, and She Draws a Circle, a video performance by artist Jaime Black. Both films foreground the power of art and artists to educate and activate awareness about the historical traumas of settler colonialism and the crisis of Missing and Murdered Indigenous Women, Girls, and Two Spirit People (MMIWG2S). Artists Angela Two Stars and Jaime Black work at the intersection of art and storytelling to cultivate healing and inspire action. Free tickets must be requested in advance. This event is sponsored by the Amy Marie Series Memorial Visiting Artist Series.
About the films: Bring Her Home follows three Indigenous women – an artist, an activist, and a politician – as they fight to vindicate and honor their missing and murdered relatives who have fallen victims to a growing epidemic across Indian country. Despite the lasting effects from historical trauma, each woman must search for healing while navigating racist systems that brought about this very crisis.
She Draws a Circle reflects on the work of generations of women to interrupt cycles of violence and oppression, looking to the ways in which our spiritual connections to the land and one another help us to hold space for regenerative healing, bringing the hidden to light drawing on that light to encircle each successive generation. Distributed by Video Pool Media Arts Centre.
Exhibition statement by the artist: This exhibition features new works by Angela Two Stars that highlight the active process of healing from trauma. Embarking on a language journey placed Angela on a path that required facing traumas that are historical, intergenerational, and personal.

Through reconnecting with her Dakota language, and ancestral homelands here in Mni Sota, Angela realized that she has always been connected to her language, culture, and ancestors and that only through a commitment to address the traumas, was she able to heal.
Through personal, vulnerable installations and performances, (Re)Connected boldly addresses issues that have caused the traumas endured by Native women but also highlights the strength, beauty, and resilience of Native women and their roles as leaders, caretakers, life-givers, and protectors of all their relations.
Press:
Alicia Eler, Reviews: Three Twin Cities art exhibits worth a look before they close, Star Tribune, March 13, 2023.
---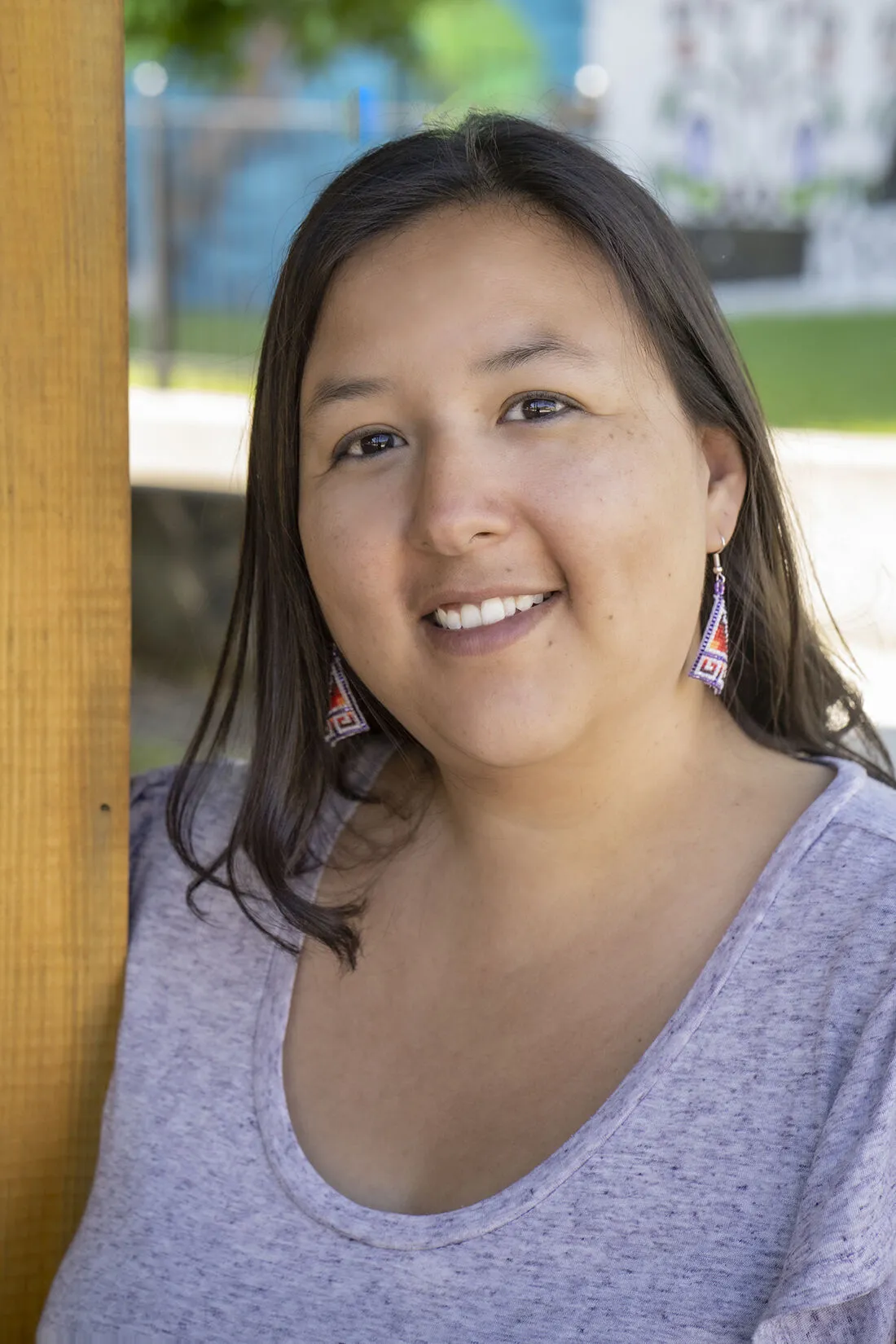 AMY MARIE SEARS VISITING ARTIST RESIDENCY
Angela Two Stars: COURAGEOUS CONVERSATIONS
February 6–10, 2023
During her weeklong residency at St. Catherine University, Angela Two Stars will invite the community to share in courageous conversations that focus on healing. Students will be invited to engage in participatory performances alongside the artist where they will, together, create space to hold difficult conversations while undoing knots that serve as metaphors for the active and intentional process of healing. Healing is a process that takes courage and commitment to undo the deep traumas Angela explores in her work featured in her current exhibition.
Angela Two Stars joins Jaime Black as St. Catherine University's 2022-2023 Amy Marie Sears Memorial Visiting Artists in Residence. Black's exhibition, She Holds Water, runs concurrently in the East Gallery.
The annual Amy Marie Sears Memorial Visiting Artist Series invites distinguished artists to St. Catherine University for a week-long residency. This series was established in honor of Amy Marie Sears, a promising 1995 studio art major who passed away in 1997.
ARTIST STATEMENT
Healing: the process of making or becoming sound or healthy again.
Healing is an active, ongoing process that requires courage and bravery. It is a form of resilience. As a Dakota artist, I returned to my ancestral homelands of Mni Sota (Minnesota) in 2017. Since then, I've reconnected with the land, the language, and the culture. This blood memory has strengthened my identity as a Dakota woman. I incorporate Dakota language into my art and have come to realize that by exploring my language, I am healing myself and my ancestors. Historical and intergenerational trauma impacts American Indian people and the effects of colonization has created issues that still affect Native people to this day. By facing my traumas, I actively work to heal myself and share the vulnerability of what healing can look like. Through Dakota language activated artworks, performance, and installations, I encourage the audience to participate in seeking healing within themselves.
---
ARTIST BIO
Angela Two Stars is a public artist and curator. She is the director of All My Relations Arts (AMRA), a contemporary American Indian art gallery and arts program. AMRA is a project of the Native American Community Development Institute in Minneapolis, MN. Angela is an enrolled member of the Sisseton Wahpeton Oyate and received her BFA from Kendall College of Art and Design. Angela's professional arts career began at All My Relations Arts gallery as an exhibiting artist, which then led to further opportunities including her first curatorial role for the exhibition titled, Bring Her Home: Stolen Daughters of Turtle Island, a powerful exhibition highlighting the ongoing epidemic of missing and murdered Indigenous women. Angela's public art graces the shores of Bde Maka Ska and honors the Dakota people of Mni Sota. Angela's sculpture, Okciyapi, was acquired by the Walker Art Center and is permanently installed in the Minneapolis Sculpture Garden. Angela also has public works installed at the Ordway Center for Performing Arts, the City of Minneapolis Public Works building, and additional locations throughout the Twin Cities.