East Gallery
September 8, 2018
October 20, 2018
to
Reception:
Saturday, September 8, 4 – 6 p.m.
All events are free and open to the public.
In this exhibition, Pankau reveals the underpinnings of a suite of geometric abstract paintings. Compositional drawings, color studies, palette records and other relics of the studio reflect the connection between the artist's practice of meditation and her painting process.
Melanie Pankau is an artist and a bit of a Midwestern nomad who has lived in Chicago, Detroit, Milwaukee, and Minneapolis. She received her B.F.A. from Minneapolis College of Art and Design in 1999, her M.F.A. from the University of Wisconsin, Milwaukee in 2011 and she studied at the Bauhaus Universtät in Weimar, Germany. Pankau's work has been shown in regional and national exhibitions at venues including: Thomas Barry Fine Arts, Minneapolis, MN; Minnesota Museum of American Art, St. Paul, MN; South Bend Regional Museum of Art, South Bend, IN; Charles Allis Museum, Milwaukee, WI; Boston Center for the Arts, Boston, MA; and art fairs Art Miami, FL, and EXPO Chicago, IL. She has participated in several artist residency programs including the Vermont Studio Center, the Ragdale Foundation and the Virginia Center for the Creative Arts. Pankau is a recipient of a Chicago Department of Cultural Affairs Community Arts Assistance Program Grant and most recently, a 2018 Minnesota State Arts Board Artist Initiative Grant. Her work is represented by McCormick Gallery in Chicago.
This exhibition is presented as part of a larger collaboration between Augsburg University, Bethel University, the Minneapolis College of Art and Design and St. Catherine University in conjunction with the publication of Kenneth Steinbach's book, Creative Practices for Visual Artists (Routledge, 2018).
---
ARTIST STATEMENT
Melanie Pankau
My creative practice and research stem from being in quiet spaces. For the last several years, I have been studying and practicing various forms of meditation and connecting them to my studio practice. It is in this state of solitude and interiority where images take shape. Like poetry, I construct forms in the most succinct and simplified way to address the complexities of the fragmented self as it navigates to find its purpose and place in the world. My interest lies in creating images using non-objective forms. The forms convey invisible fields of sensation that explore non-linear knowledge and information that is received from a space outside of the five senses. I am interested in visualizing a contemplative consciousness and producing work that is laborious—embodying a deep, latent, or durational sense of time.
I work at the pace of my hand where images develop slowly over prolonged periods. From hundreds of compositional drawings that I mine for a form, the crafting of a painting begins. Months will pass and numerous layers of paint will be applied, buried, and reconfigured all in an effort to find a concert of form and color. Although the shifting shapes and stripes read mathematically and analytically, the color counters the hard edges by using combinations that derive from transitory times of day that are light, reflective and meditative. In turn, the paintings mark time and are an archive of various states of being.
My intention is to create positive, quiet, and contemplative images.
---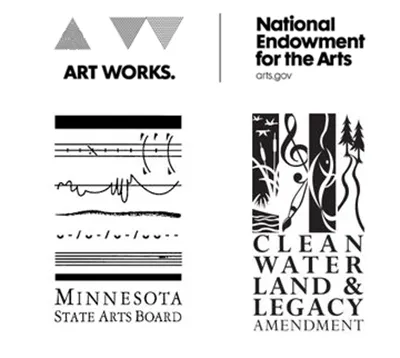 Melanie Pankau is a fiscal year 2018 recipient of an Artist Initiative grant from the Minnesota State Arts Board. This activity is made possible by the voters of Minnesota through a grant from the Minnesota State Arts Board, thanks to a legislative appropriation by the Minnesota State Legislature; and by a grant from the National Endowment for the Arts.
Image Gallery
Click an image to view in larger size